Click here for stylized version of Franchise Dictionary Magazine's May issue.
Click here for the digital version of May articles.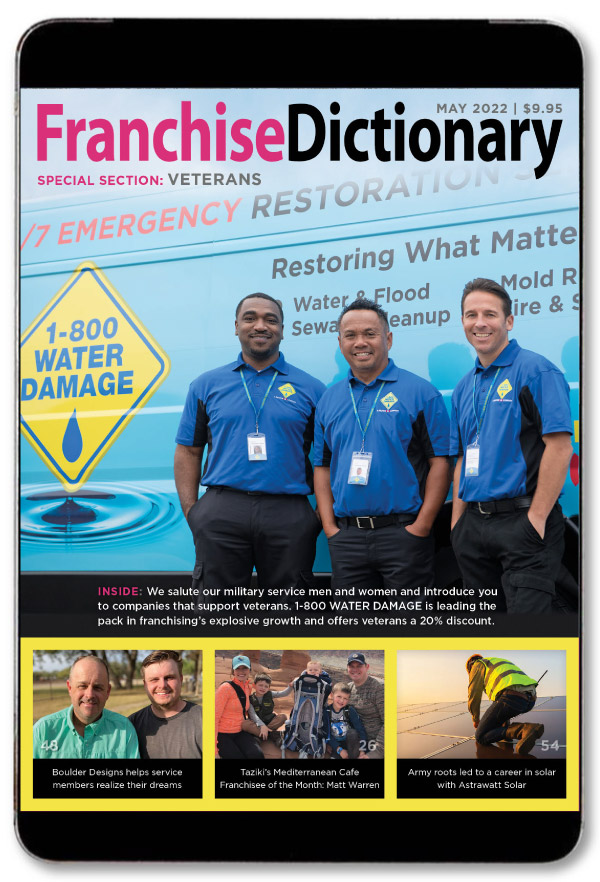 May 2022 Articles
Departments
After spending 20 years in the corporate world, Wayne Gentry climbed the ladder to an executive position. However, when that company made changes that went against his core values, he knew he had to make a potentially life-changing decision. By Brianna Bohn
Features
For over 25 years, Jim Chapin has been in the marketing industry, and for 16 of those years, he has owned a successful advertising agency. When Chapin learned about Runningboards Marketing (RBM) and its innovative digital-advertising vehicle, DAV®, he didn't think twice about investing in the emerging concept. By Brianna Bohn
When guests walk into Überrito Fresh Mex, they immediately recognize what makes the fast-casual Mexican concept special. From the hospitality of the staff serving bold-flavored cuisine to the lively restaurant atmosphere, Überrito is the go-to spot for guests of all ages. By Jorgette Krsulic
Just one look at Power Trucks USA's evolution over the years is enough to signal that growth is in the brand's DNA. Founded in 2005 by Jeremiah Fiel, the business started as a mom-and-pop automotive-accessory store that has since scaled into a one-stop shop for nearly any automotive service or accessory. By Tamara Rahoumi
30 Minute Hit is rapidly expanding across the U.S., with seven franchises recently awarded. Stacey Firth, vice president of franchise development, shared more information about the brand's growth. By Elice Morgenson
BrightStar Care® is a nationwide franchise that provides a higher standard of quality in-home care. In December 2021, the brand commissioned Avalere Health to conduct a study that measured the client outcomes and cost benefits of BrightStar Care. By Nancy E. Williams
BrightStar Care® is a nationwide franchise that provides a higher standard of quality in-home care. In December 2021, the brand commissioned Avalere Health to conduct a study that measured the client outcomes and cost benefits of BrightStar Care. By Cindy Charette
BASH Boxing consists of 45 fast-flying minutes of conditioning. Using free weights, medicine balls, resistance bands, and a joint-safe aqua punching bag, BASH helps clients build lean muscle, improve overall endurance, and torch calories round after round. By Nancy E. Williams
Whether it's working with homeowners looking to rent their space for a portion of the year or working with individuals looking to monetize an investment property, Grand Welcome gives franchisees the opportunity to build a business in full-service, vacation-rental property management. By Tamara Rahoumi
Assisting Hands® Home Care grew out of a desire to provide non-medical assistance to seniors and others in a way they prefer – independent, safe, and comfortable in their own homes. The pandemic put a spotlight on this preference. By Nancy E. Williams
Anyone who has owned a business can attest to the immense amount of business costs involved in keeping everyday operations on track. For some businesses, they can be the daily operational costs, and for others, they can be the expenses incurred from growing a company. By Kelsi Trinidad
When you join the Tint World family of franchises, you're doing a lot more than just going into business for yourself: You're joining an award-winning, internationally recognized brand at the forefront of its industry. By Tamara Rahoumi
PetNmind is an emerging brand that is making a difference in the lives of pets and their owners. According to IMARC, a marketing research firm, the global pet-food market has a value of over $22 billion and is rising with the growing number of pet owners who have recognized the benefits of premium food choices and eco-friendly products. By Jorgette Krsulic
Medi-Weightloss®, the nationally recognized nonsurgical weight-loss management franchise, has transformed lives for 17 years. With 115 sold locations in 27 states, the brand effectively battles obesity with an evidence-based program that helps people lose weight and keep it off. By Lizzy Yeserski
With the celebration of Mother's Day in May, FranServe, Inc. would like to recognize four women who balance their franchise-consulting business with the busy life of being a mother. By Cindy Charette
With May bringing warmer temperatures and longer days, customers are looking forward to dining outside in Hofbräuhaus of America's franchise locations, all of which feature a biergarten. By Brianna Bohn
Shop Talk
For many franchisors, the goal is to get your system and your agreements to the point that you no longer need to entertain addenda or changes to your franchise agreements. But for new brands, that is just not realistic. By Tom Spadea
Only about 7% of U.S. citizens have served in the armed forces. Of those, 82% are enlisted and have an average joining age of 21. I was only 17 years old when I signed up to support and defend the U.S. Constitution. Looking back, I didn't understand how big of a deal that was. By Jon Skroder
As a Certified Franchise Consultant (CFC), I hear stories all the time about how those who choose to go into business by themselves have a difficult time in so many ways. Figuring out all the procedures, marketing, budgeting, implementation, collections, and employee management, just to name a few, can be a difficult task for most people, which is one reason many turn to franchising. By Don Clayton
Last month we shared some tips for franchise professionals to increase their impressions on LinkedIn and build a personal brand as a thought leader on the national or local level. These tips included details on posting every day, posting from your personal profile rather than your company account, and sharing links to your website in comments instead of in the body of your post. By Jack Monson
When it comes to applying for a small business loan, there are endless options, but an unsecured loan typically is the best option for franchisees. An unsecured loan is any loan from a lender that is based only on the applicant's creditworthiness. There is no collateral to back the loan. By Chris Fuller
Tune into Franchise Business Radio to listen and learn from Jason Tropf and Holly Ford, co-founders of Cannabis 10x.
Ask any seasoned salesperson what is the first thing to learn in Sales 101? Right! The client/customer buys you first. Then the product or service. So, if the customer must buy YOU first, what needs to be done? Right! Build a relationship. By Nancy Friedman
Sign up for the Franchise Dictionary Magazine Newsletter