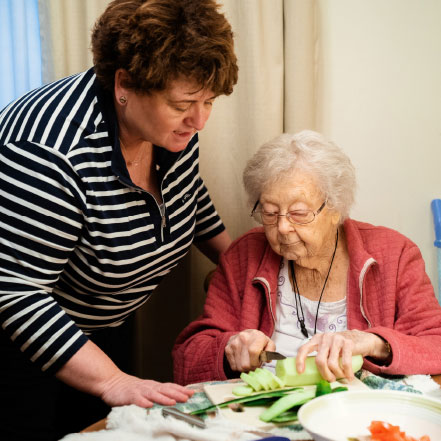 After spending 20 years in the corporate world, Wayne Gentry climbed the ladder to an executive position. However, when that company made changes that went against his core values, he knew he had to make a potentially life-changing decision. By Brianna Bohn
After spending 20 years in the corporate world, Wayne Gentry climbed the ladder to an executive position. However, when that company made changes that went against his core values, he knew he had to make a potentially life-changing decision. A few years prior, Gentry's beloved grandmother had passed away, leaving his grandfather alone, and with the challenges at his job, Gentry's perspective started to shift. He began looking for his 'why.'
"I looked at what I had done and what I wanted to do. I wanted to truly have a 'why.' I started doing discovery work, found Home Helpers Home Care, saw what their model looked like and it just made sense. It was something I could be passionate about, make a difference, and help a family not go through what I went through," explained Gentry, who vowed to help seniors and their families after his grandfather's caregiver had stolen items.
Since opening Home Helpers Home Care of Somerset and London, Kentucky, in 2016, Gentry definitely has found his 'why.' He has been involved in countless efforts in his community, including being an ambassador for the London Chamber of Commerce, volunteering at the Laurel London Optimist Club, and raising awareness about Alzheimer's disease. He thanks Home Helpers Home Care for these opportunities.
"In the corporate world, I would leave on a Sunday night and get back on a Friday morning, so even though I lived in the community, I wasn't truly a part of the community," Gentry said. "Home Helpers Home Care has given me the freedom of time to give back to my community."
Of all that he has done to support others, Gentry said his most rewarding experience occurred at the beginning of the pandemic. "When COVID first happened, we had a lot of snack wagons, coffee trucks, and Kona Ice for the heroes in assisted living facilities, hospitals, and nursing homes. We decorated the outside windows of nursing homes, and it was priceless seeing the faces of seniors. That is some of the most rewarding times I've ever experienced," he said.
Gentry looks forward to growing the Home Helpers Home Care community with future volunteer opportunities.
Brianna Bohn