Click here for stylized version of Franchise Dictionary Magazine's May issue.
Click here for the digital version of May articles.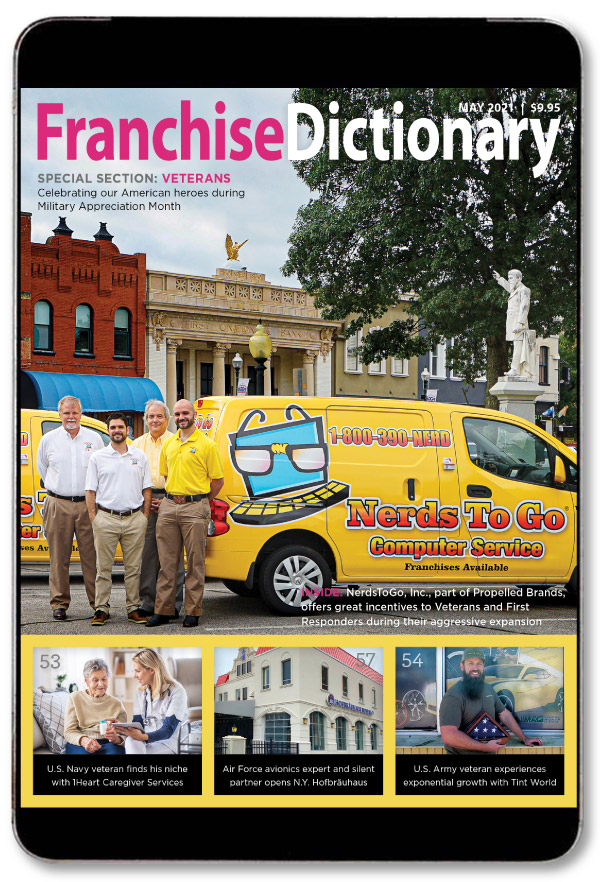 May 2021 Articles
Departments
Growing up on the streets of Brooklyn, New York, Michael Kraner learned the best life lessons from sports, including confidence, integrity, and teamwork. Now, as founder and CEO of My Backyard Sports, he's come full circle to translate those lessons and says he couldn't be happier. By Lizzy Yeserski
Features
Warning: Scrolling through Bailey Seafood's social media pages will instantly make you hungry. Probably because @baileyseafoodfresh posts plenty of photos showing off succulent shrimp platters, steamed crab legs, and perfectly browned hushpuppies. By Jessica Jones
Daily Jam is recognized by renowned foodies for its fresh take on breakfast and lunch dining. But innovation isn't confined to the menu or restaurant concept. Berekk Blackwell, Daily Jam franchise president, has also employed cutting-edge marketing strategies, harnessing the power of social media micro-influencers to help build the brand and consumer engagement. By Jessica Jones
The Black Franchise Leadership Council (BFLC) joined the ever-expanding International Franchise Association (IFA) in February 2021 as part of the IFA Foundation and Diversity Institute. The timing of this launch during Black History Month was impeccable, as the council strives to bring awareness to the black community of entrepreneurs. By Rose Mango
Consistently conducting extensive market research to stay ahead of industry trends and continuing to perfect their menu of services, the Roosters brand of men's grooming centers remains on the cutting edge of hair care's most rapidly growing segment. By Jessica Jones
Lou Romano Jr. earned his MBA from Iona College, New York, then followed a corporate path, working in the pharmaceutical industry and specializing in prescription marketing campaigns. But an entrepreneurial spirit compelled him to seek opportunities to own his own business. By Cindy Charette
Franchise ownership undoubtedly changes lives. Identified as one of the most seamless and unproblematic ways to fulfill an entrepreneurial dream, the well-established path is commonly viewed as a doorway for those seeking to be their own boss – one that is ripe with opportunity and international recognition. By Jessica Jones
Shop Talk
What's the Best Franchise to Own? That's a very common question because everyone wants to pick a successful brand to own that will be profitable and enjoyable. That means different things to different people. Franchises are like ice cream, there is more than just one flavor, so everyone can choose their favorite one. By Alesia Visconti
As attorneys, we protect our clients with the contracts we write, the clauses we negotiate, and the words we choose. However, words are not magic and not the end of the discussion in any legal analysis or dispute. The words are a road map and documentation of what the parties intended the legal relationship to be, but they aren't the "last word," so to speak, in most instances. By Tom Spadea
All of our military veterans have different reasons why they decided to serve. For some, it is in service of country, or continuing a tradition of family; for others it is using the GI Bill for College education. By Jon P. Skroder
Franchise buyers who choose to capitalize their business with a Rollover as Business Startup (ROBS) can't just jump right in. Setting up and administering a ROBS structure requires knowledge of complex legislation and IRS requirements. By Max Mawhirter
Recently, I had a client say to me, "I've never heard of that before," when referring to one of the franchise concepts in the FranServe inventory. My response, "Good! That's why you're working with a Certified Franchise Consultant!" By Don Clayton
Near the end of 2020, I started another new podcast with my colleague Mike McDowell, director of operations at Social Joey. Mike is a Certified Facebook Ad Buyer and Business Manager, and we chat regularly so Mike can update me on new Facebook changes and how these changes will affect Franchises and small-business owners. By Jack Monson
Stephen Preuss, CEO, and Erik Helgesen, President of Paymore, were on a recent episode of the Franchise Business Radio show. Paymore is an emerging, fast-growing franchise opportunity in one of the hottest markets – electronic sales. Tune in and learn about Paymore's offerings, whether you are a customer that is looking to upgrade your electronic devices or if you're an aspiring entrepreneur considering a business.
Sign up for the Franchise Dictionary Magazine Newsletter