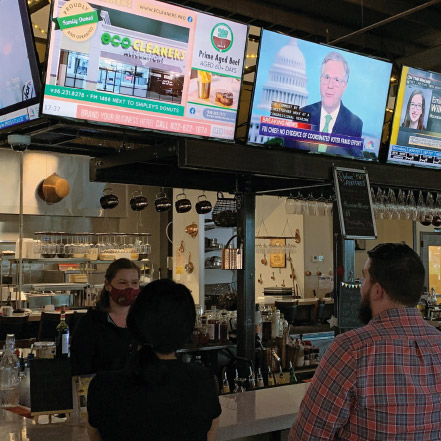 Wayne Walker was looking for a way to enhance his internet marketing business. He and his wife had a long history of business ownership in self-storage, record retention, and document shredding, and they also built websites and did some digital marketing. By Nancy E. Williams
Connecting the Community Through Digital Billboards
Wayne Walker was looking for a way to enhance his internet marketing business. He and his wife had a long history of business ownership in self-storage, record retention, and document shredding, and they also built websites and did some digital marketing.
In 2015, they decided to focus on marketing as a business and offer these services to the public. After looking for opportunities that could complement the marketing business, they read about N-Compass TV. This indoor digital billboard business opportunity was scalable and required no royalty – exactly what the Walkers were seeking.
"In 2019, we launched Indoor Billboard Network Myrtle Beach (S.C.). Our territory gives us an amazing opportunity," Walker said. "It contains 9,600 businesses, 48% of those with one to four employees – which is our target."
N-Compass TV creates full-motion or static ads, as well as entertainment, weather reports, and fun facts that run on digital billboards in host locations, such as restaurants, gyms, oil change and car wash businesses and medical offices.
Because of the world-class tools and resources N-Compass TV provides, Walker was confident they would hit the ground running. "I felt that in order for advertisers to see real value in our product, we needed to have a good number of screens for their ads to run on," he said. "We already have 30 screens up and running, with a goal of 100 screens in the next few years. The best part is that I can log into each of those screens at host locations using the tools N-Compass TV has and monitor or fix issues remotely."
Here's a look at a typical day for Walker, a self-proclaimed workaholic who likes to get up early.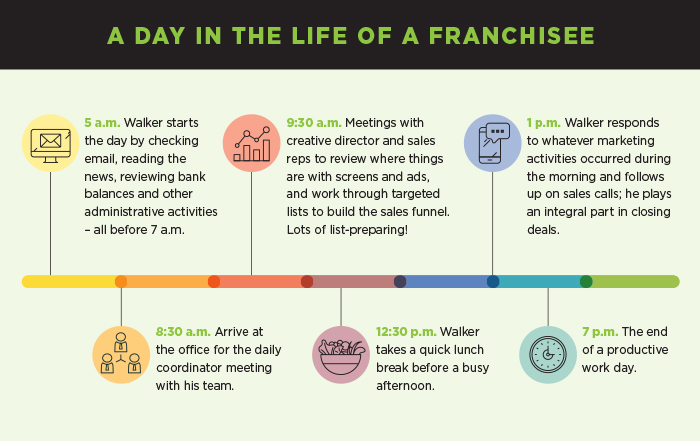 To learn more about N-Compass TV, visit n-compass.tv.
– Nancy E. Williams