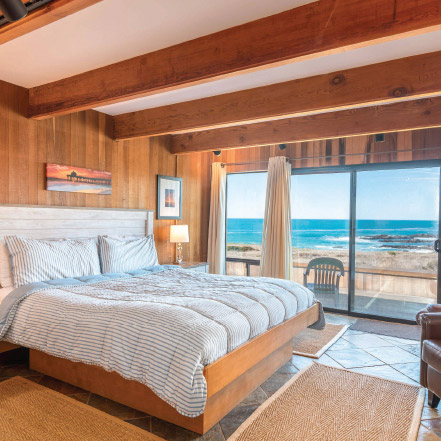 Brandon Ezra was once just a guy who loved to ski, surf and fish. In 2009, as founder and CEO of Grand Welcome, he took his love of sea and sky and embarked on the biggest adventure of his life. By Lizzy Yeserski
Brandon Ezra was once just a guy who loved to ski, surf and fish. In 2009, as founder and CEO of Grand Welcome, he took his love of sea and sky and embarked on the biggest adventure of his life.
Now a multimillion-dollar vacation rental and property company, Grand Welcome burst onto the franchising scene in 2020 with unstoppable momentum. Ezra shares how he hopes to spread success to franchise owners worldwide.
What sets Grand Welcome apart from the competition in the vacation sector or, more specifically, in the short-term vacation rental segment?  
We're a full-service vacation rental franchisor. We assist the franchisee with much of the backend operations that can be very complicated, which essentially will help them scale. So we'll help with revenue management, technology, guest services and some finance options as well. Our competitors do not do that.
We also help them grow their inventory with active marketing. There's a marketing department that will help bring in leads to increase the size of their business.
What sets your brand apart for the consumer?
What sets us apart for the consumer is really simple, and this also applies to the franchisee and property owner. We have local ownership. Local ownership means that the people who buy these franchises typically live in and understand the area. That usually translates into high-quality property maintenance, which means the guests will have a better experience. And the same goes for the owner.
These things are consistent across the board and will make a big difference to the guest experience and owner experience, and that's super important here.
Is prior experience in the vacation/hospitality industry required for franchise owners? 
No, not at all. That's the beauty of what we do, actually. We've taken away the complications by offering so much of the backend services. Our training is excellent, and our staff is fantastic. We run a number of areas ourselves, so the experience we have is not just a hypothesis.
So the answer is definitely not. Of course, if you do have experience, great!
What personal qualities and characteristics make a great Grand Welcome franchise owner? 
Someone who's willing to be collaborative with us. Someone who's service-focused. And someone, perhaps, who's a little more apt toward selling and getting out there and being focused on growth.
What training and support do you provide to new franchisees?
It's pretty intensive training. We've got on-site and off-site support. We have Grand Welcome University, which is a great program that people can go through online. And we also come out to their area and help as well.
Why is now a great time to launch a Grand Welcome franchise?
The vacation rental industry right now has grown 300% in volume. About seven to eight years ago, around 3-3.5% of travel was vacation rental. Pre-COVID, it was up to roughly 8%. During COVID, and today, it's about 25-30%.
We expect the size of the industry to have doubled if not tripled. It's not a secondary or tertiary option for travel; it's a primary option now. So people really understand the benefits of vacation rentals. And then you've got big companies like Airbnb that have created consistency and professionalism in the industry, which has helped tremendously.
What else should people know about the Grand Welcome brand?
Well, I'm the founder and CEO of the business, so it's unlike a lot of other companies out there that are run by private-equity companies and paid-to-hire CEOs. I've been doing this my entire career. Everyone I've hired, I've handpicked and worked with for many years. So this is a business that's been grown from inception to today with the same leadership. We use a bottom-up approach, listen to what's happening in the market and make changes according to what should happen. We run efficiently, we're a profitable company, and I think the values that we share are tremendous.
It's a great business. You're in a great place, you're helping people get vacations and you're making revenue for property owners, so there's not much about it that's not positive, that's for sure.
For more information regarding franchising opportunities with Grand Welcome, visit grandwelcomefranchise.com today!
– Lizzy Yeserski