Click here for stylized version of Franchise Dictionary Magazine's March issue.
Click here for the digital version of March articles.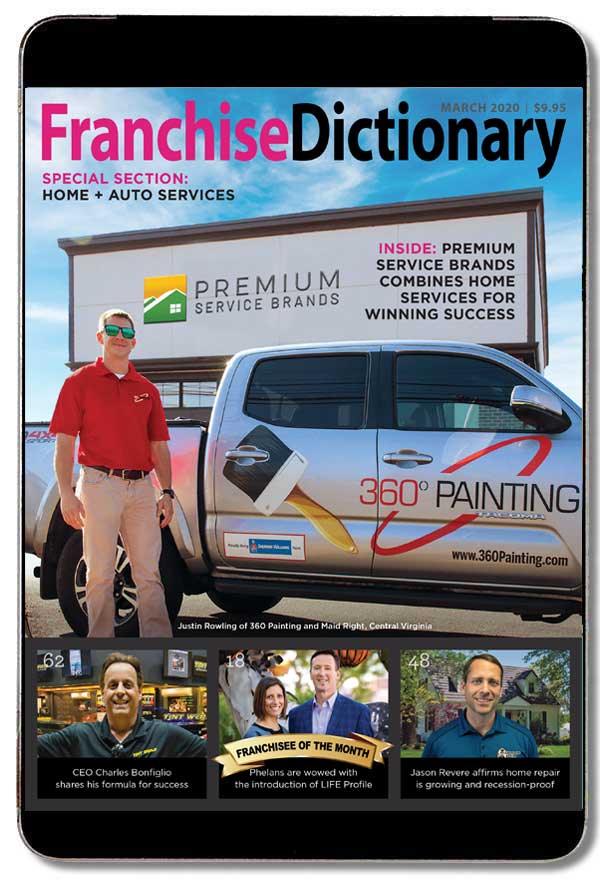 March 2020 Articles
Departments
What puts Senior Helpers at the forefront of the industry and gives them a strategic advantage in the marketplace is the continuum of care they provide far beyond basic companionship. By Nancy Williams
Features
Shawn Friesen realizes that his experience with Expedia CruiseShipCenters has been a life-changer for him and his family. By Mike Grecky
…is the name David Giacobbo has given to the proven business model designed to guide a new franchisee through the business startup. By Cindy Charette
Thanks to franchising, beer lovers don't have to cross the Atlantic for the experience anymore. By Rochelle Miller
There is an opportunity at hand where you can own your own Bitbox ATM franchise, and bring Bitcoin to the masses that are demanding more accessibility to this currency. By Rochelle Miller
My Eyelab, a leading retail optical center, already has 180 locations across the country, and continues to grow, thanks to franchising. By Rochelle Miller
If you have ever thought of owning a 5-star restaurant on wheels, a Roll'n Lobster franchise is just the ticket to achieve that dream of business ownership. By Rose Mango
The extensive number of independent and assisted-living options may be overwhelming for people trying to make a choice that's best for them, but the consultants with Bridge to Better Living are making the process easy. By Cindy Charette
Acronyms in the business world have become the modern entrepreneur's second language and one leader in franchising is hoping "PDO" (Purpose-Driven Organization) will become just as universal. By Rochelle Miller
Potential franchisees turned out in droves at The Franchise Show at The Meadowlands Expo Center. By Rose Mango
As Ori'Zaba's has grown, so has the size of the options they now offer families. By Elice Morgenson
Shop Talk
There are four main categories to consider when researching an automotive franchise. By Sue Bennett
Research has shown time and time again that multi-tasking doesn't work. Stop Multi-tasking and Get More Done! By Alesia Visconti
Professional franchise consultants are specifically trained and become certified in building strong bridges. By Don Clayton
Read on for the best practices for franchisors looking to maximize their trade show experience and leave with quality franchise leads. By John Erich
The Franchise Business Radio show is a platform to bring together business professionals to connect, educate and collaborate to serve the franchise community and those considering franchise ownership.
Sign up for the Franchise Dictionary Magazine Newsletter