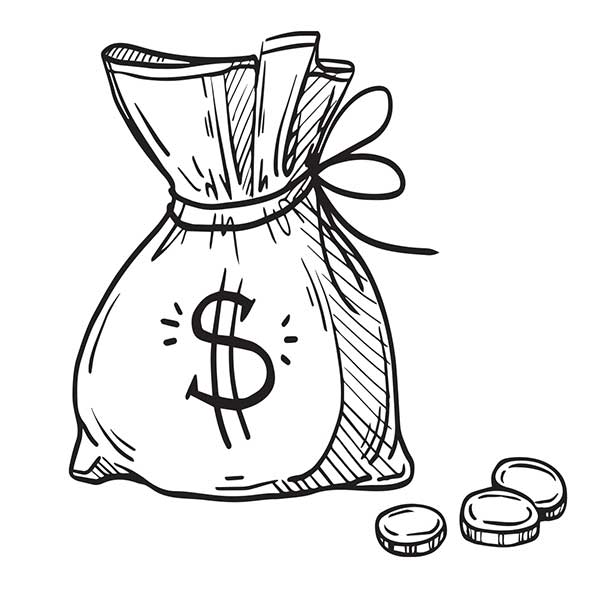 Whether you're planning to start a business or want to expand an existing one, securing funding is one of the most important parts of the process. By Sherri Seiber

Starting a new business or expanding an existing one can be very exciting, but most things that big rarely happen without a little help and a little capital. Whether you're planning to start a business or want to expand an existing one, securing funding is one of the most important parts of the process.
There are four main types of funding: Equity funding | Debt funding | Asset-backed funding | Self-funding
The two most popular business funding methods are self-funding with a Rollover for Business Startup (ROBS) and Small Business Administration (SBA) loans.
Rollover for Business Startup (ROBS)
You can capitalize your business with your own money through a ROBS funding plan. It allows aspiring business owners to roll their 401(k)s over into investment capital.
FranFund has streamlined the ROBS process with these four easy steps.
4 STEPS To Using Your 401(k) To Start A Business Without Loans
Using your retirement funds can help you finance your small business or franchise debt-free. FranPlan® is the name of our Rollover for  Business Start-up (ROBS) plan that allows you to use qualified retirement funds tax- and penalty-free to start your business with no debt. Here are the four steps to funding your business with your retirement assets.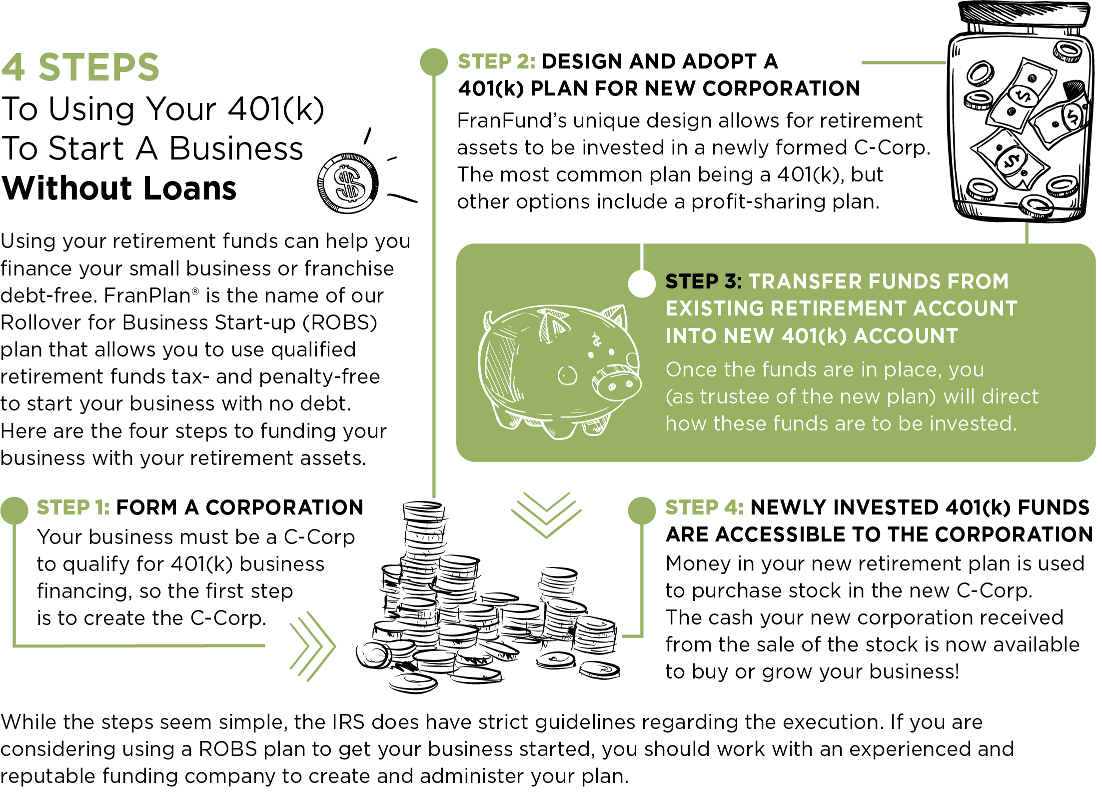 STEP 1: FORM A CORPORATION
Your business must be a C-Corp to qualify for 401(k) business financing, so the first step is to create the C-Corp.
STEP 2: DESIGN AND ADOPT A 401(k) PLAN FOR NEW CORPORATION
FranFund's unique design allows for retirement assets to be invested in a newly formed C-Corp. The most common plan being a 401(k), but
other options include a profit-sharing plan.
STEP 3: TRANSFER FUNDS FROM EXISTING RETIREMENT ACCOUNT INTO NEW 401(k) ACCOUNT
Once the funds are in place, you (as trustee of the new plan) will direct how these funds are to be invested.
STEP 4: NEWLY INVESTED 401(k) FUNDSARE ACCESSIBLE TO THE CORPORATION
Money in your new retirement plan is used to purchase stock in the new C-Corp. The cash your new corporation received from the sale of the  stock is now available to buy or grow your business!
In as little as 10 business days, you can access funds to use for any legitimate business expense, including your own salary.
Small Business Administration (SBA) Loans
SBA loans are also a popular method of funding. Even though many banks offer SBA loans, they can still be selective about the types of industries they work with and the number of startups they lend to. Since FranFund has established an extensive network of lenders who are franchise friendly, we can match you up with the right lender.
You may decide to use a combination of a ROBS plan and an SBA loan
Many clients who don't have the cash required for a loan use a ROBS plan to access the funds needed for the equity injection. This is also a good strategy if you plan on opening additional units, so you have a reserve of available funds for future expansion.
To help you determine the best funding solution, the FranFund funding experts offer a no-pressure consultation to evaluate your financial situation and make recommendations about the best strategy for you. Our approach is very effective, and we were recently voted #1 Funding Provider in Entrepreneur Magazine's Annual Franchise Industry Supplier ranking. If you're ready to get started, visit franfund.com.
Sherri Seiber is the Chief Operating Officer for FranFund. She and her team are passionate about designing flexible funding plans that help new and experienced business owners fund their franchises, from single units through multi-unit expansions. For more information, contact Sherri at sseiber@franfund.com or visit franfund.com.