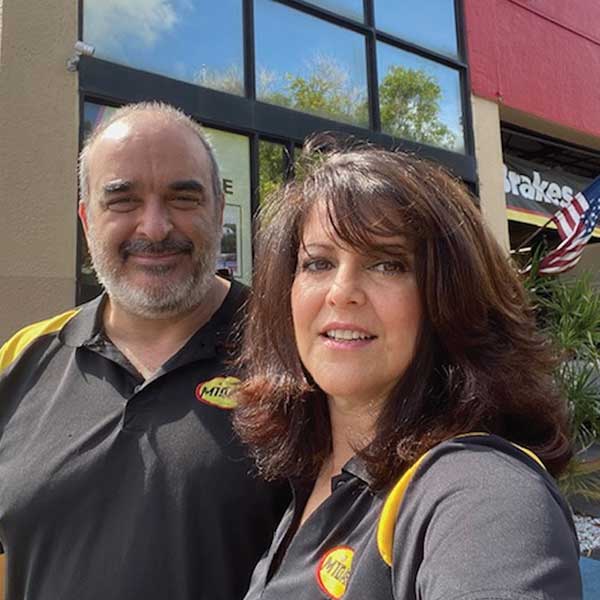 Why would a successful businessperson with a background as a retail buyer, account manager, and real estate agent want to buy a Midas franchise? By Mike Grecky

Why would a successful businessperson with a background as a retail buyer, account manager, and real estate agent want to buy a Midas franchise? The answer, according to Ann Saiz, is simple: "I was looking for a new adventure that represented a good business opportunity, with a franchise model that made sense and would not be threatened by Amazon."
Despite having no automotive experience, Saiz and her husband, Anselmo, opened their first Midas location in Lake Worth, Florida, in September 2018. The franchise location had been closed for 18 months. When Saiz looked at the site, she saw that the CVS on the corner was also closed, but she saw other stores that were open and thriving. She reasoned that with the right attitude, vision, and a team approach, she could get this Midas location up and running again and performing well quickly.
Saiz understood that a customer's vehicle is typically their first or second-largest asset that they own, and that no one ever looks forward to bringing their car to a garage for service. She knew that the Midas brand, with its focus on total car care, presented her with a great opportunity to partner with her customers in the maintenance process and long-term care of their vehicles. Saiz set out to hire employees who would be committed to working as a part of a team. She created a culture where her employees understood that it is all about making their customers' lives easier and that the only way to treat them is to be respectful and honest in all interactions.
Within a few months, Saiz and her team had their first Midas location exceeding expectations, which created other opportunities that Saiz could not pass up, leading to the purchase of two additional Midas locations. Saiz credits the support she received from the Midas corporate team, who, she says, "are very focused on sharing information and helping their franchisees become successful." Saiz says she loves what the Midas brand stands for and is "looking forward to continuing to achieve great success."
If you would like to learn more about owning a Midas franchise, visit the company's website at midasfranchise.com or call 877-890-5874.
– Mike Grecky