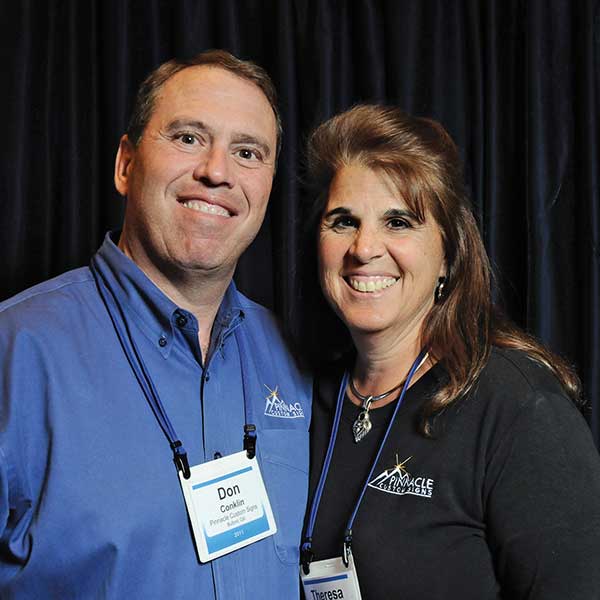 Don and Theresa Conklin worked with an experienced franchise consultant to find a business opportunity that was the right fit for them – that opportunity was Signworld. By Nancy Williams

Don and Theresa Conklin opened Pinnacle Custom Signs in Buford, Georgia in 2011, after spending several years in the telecommunications sector. Their family was in their thoughts as soon as they began exploring business ownership. They wanted to provide their four sons an opportunity to take part in running a family business. In particular, one of their sons expressed his lack of interest in having a typical 9-to-5 office job. With a goal in mind, the Conklins worked with an experienced franchise consultant to help them consider various opportunities.
When presented with the Signworld business opportunity, they both agreed that it was the right fit. Don was attracted to the B2B aspect of the business, as he wanted a business that had a defined customer base. In addition, he felt that the sign industry was a service that would always be needed. Theresa was drawn in by the creativity of the business. "I was hooked after we went and visited a few centers. I loved all the various materials that were being used, and the design possibilities were endless," she shared. And now that they've been in business for nine years, Theresa loves seeing their work all over town.
The Conklins now have two of their sons working in the business. They love that everyone has the same vision and values; everyone is able to represent the brand consistently. They also recognize the value that their different, yet complementary, skills bring to the business. "I'm more of the strategic sales type, and Theresa is really good at the details of the operation. Luckily, one son exhibits my personality and the other exhibits hers," Don conveyed. But it wasn't always easy. In the beginning, everyone knew how to push each other's buttons. After getting past that, things ran much smoother. Don and Theresa agreed that if they had to do it all over again, they would insist that their sons find employment outside of the family business for at least one year before joining the team. "I think it would have been helpful for them to experience having a boss that was not their parent," Don revealed.
The Conklin family is very pleased with how the business has grown. In fact, they have reached their four-year plan within the first three years. "We've grown to 16 employees, to include our family, and we recently purchased the building we were leasing space in and are working to expand. Even more exciting news is that we're now starting to service national accounts through subcontracting," shared Don.
So, what do they attribute to their success? They believe that having the same philosophies and core values about business have propelled them to where they are. "We saw very quickly that hiring the right team directly impacted how well the business did. We look for positive people that are team-oriented, driven, and have a work-hard-play-hard mentality. Getting the right culture is key." The entire organization is very focused on the customer experience, which Don and Theresa learned the importance of while in the corporate world. "We're really business people running a sign company, as opposed to sign people trying to run a business."
If you would like to learn more about the Signworld business opportunity, visit their website at signworld.org.
– Nancy Williams