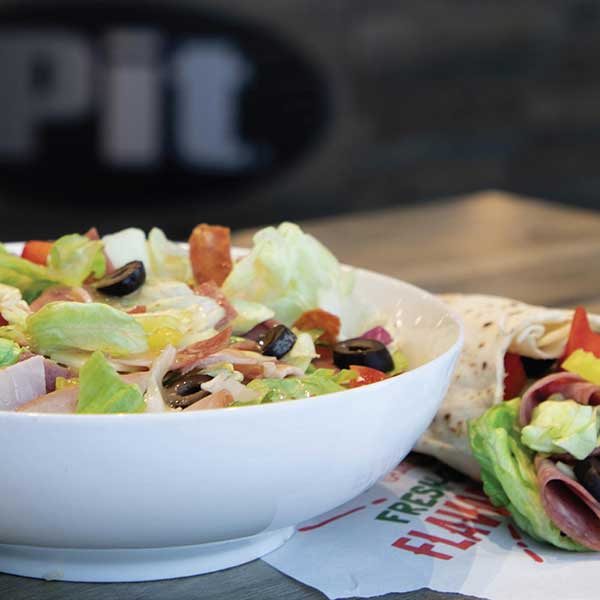 Pita Pit is the quick-service restaurant (QSR) of the future, with more than 600 locations in 13 countries, with more than 170 in the U.S. alone. By Rose Mango
Pita Pit Inc. has continued to be one of the fastest-growing quick-service restaurant franchises in the country since opening its first restaurant in the U.S. in 1999. The massive popularity results from Pita Pit's signature grilled ingredients, providing a healthier and more flavorful alternative to traditional fast food. Pita Pit's made-to-order pitas feature a customizable mix of the freshest grilled meats and vegetables, as well as cheeses and zesty sauces, all flavorfully packed into a delicious soft pita. And for consumers who prefer meatless alternatives, Pita Pit has recently added Beyond Meat substitute, which has become the latest Pita Pit craze.
Founded in Ontario, Canada, in 1995, Pita Pit now boasts more than 600 locations in 13 countries, with more than 170 in the U.S. alone.
Pita Pit is the quick-service restaurant (QSR) of the future! Company officials have spent years dedicating themselves to a fresh and healthy restaurant experience that doesn't sacrifice convenience. With a simple business model and a time-tested menu that customers love, they've got the healthy sandwich franchise you've been looking for.
CONGRATS
Erik Morris
As Pita Pit's youngest entrepreneur, Erik Morris has been a franchise owner for 14 years in Spokane, Washington, and now owns three locations. He was honored in 2012 as Pita Pit's Franchisee of the Year, which recognized him as an outstanding franchise owner for what then was 12 years in the Spokane and Pullman areas. Morris stays very active on the campuses of Washington State and Gonzaga universities, and is always involved with community events.
Patrick Behler
With a location perfectly centered in downtown Bozeman, Montana, Patrick Behler has leveraged partnerships with other area businesses to be No. 1 in the system for deliveries and in the top five for sales. Behler, who has owned his business for 16 years, has chosen not to expand beyond the one location, so he can stay as involved with the business as possible to deliver outstanding customer service. He's excellent at employee retention, too, even in a college market.
Kristi Grob
A Pita Pit franchise owner for 14 years in Billings, Montana, Kristi Grob now has two locations and has built her business through her involvement in her community, including golf event sponsorships that benefit local schools. She's incredibly gracious, loves her team and has some longtime employees. She is a true people person, known for always going above and beyond, and she enjoys training her team in how to take care of each and every customer.
Dave & Judy Pennington
Always visible in their restaurant, Dave and Judy Pennington are two of the hardest working people you could ever meet. They established their first location in 2003. The couple has always had great sales at their Pita Pit locations in Rochester, New York, and they are true brand advocates. They love their customers and their staff and are very generous with their, time taking part in many local events.
Learn more at pitapitusa.com.
– Rose Mango