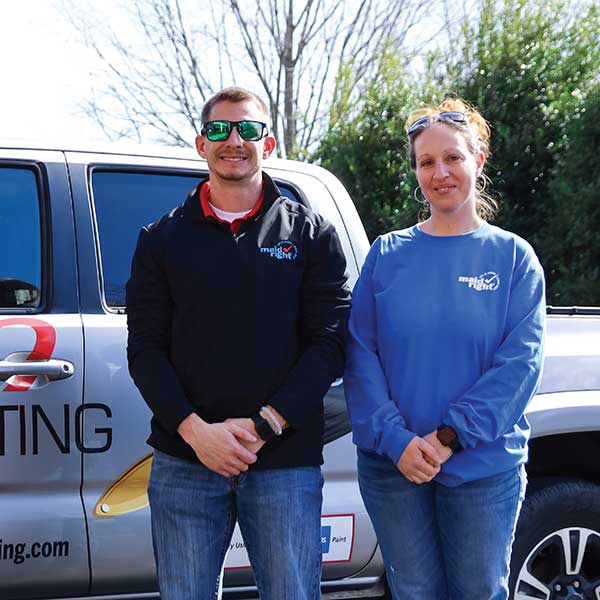 Premium Service Brands is a holding company for 360° Painting, Handyman Pro, Pro-Lift Garage Doors, and Maid Right, as well as its newest brands, Kitchen Wise and Renew Crew. By Rose Mango
Premium Service Brands develops a solid infrastructure for its franchisees that keeps revenue streams flowing
The home services industry is an estimated $400 billion dollar market, and Premium Service Brands has developed a diverse portfolio that offers potential franchisees many options for entry and revenue sharing. Based in Charlottesville, Virginia, Premium Service Brands is a holding company for 360° Painting, Handyman Pro, Pro-Lift Garage Doors, and Maid Right, as well as its newest brands, Kitchen Wise and Renew Crew.
"Customers are investing in their homes through home repair and custom changes, but finding good labor is a challenge," says Paul Flick, CEO. Premium Service Brands has developed a referral source program among Premium Service Brands franchisors and franchisees that assures repeat business. Premium Service Brands encourages its franchise partners to set new industry standards with its six brands. Flick says, "the painting sector is a customer service-deficient and technology-deficient market, along with the garage door and handyman markets." To change that, Premium Service Brands has developed infrastructure to help address those deficiencies. By applying the company's tried-and-true methods, clients are seeing customer opinions change for the better because Premium Service Brands shows up on time for estimates and delivers on its promise. People who associated customer experience as a negative, are delighted when Premium Service Brands changes their perception; those customers become repeat customers who also act as champions for referral business.
Premium Service Brands is a home-based business and does not require experience in the industry. Instead, it seeks middle- to senior-level executives who want to control their financial destiny and schedule.
When a franchise partner comes aboard, Premium Service Brands provides all the training necessary to begin their business. Franchise partners launch their website, are introduced to vendor partners, and start the development of their in-depth marketing plan during their first week. Then, franchisees take part in two weeks of virtual training and one week of classroom training in Charlottesville.
After the online and classroom training, franchise partners are trained in the field for one additional week to learn how to conduct estimates, interview subcontractors, and manage projects. Premium Service Brands provides each franchise partner with an exclusive territory that includes a minimum of 100,000 single-family homes with a minimum household income of 75-thousand or more.
To further develop its brand and make tracking and managing its businesses easier, Premium Service Brands invested in a new software program last year to standardize the platform across its brands. The company is focused on growing properly by training its franchisees in its latest industry standards and innovative marketing techniques. Premium Service Brands remains in constant contact with its franchise partners to help them with the software programs, provide marketing support, and support home show sponsorships. Also, Premium Service Brands plans to continue its managed growth system by adding franchise partners only as fast as they can train them to represent the brand.
If you're a go-getter seeking the success of leading a business that delivers reliable service and customer service experiences, consider Premium Service Brands. As a franchise partner, you won't be involved in physical labor. Instead, you will put together and lead a team of great people who can help you deliver exceptional customer service and achieve success. With six major home service providers under its belt, Premium Service Brands doesn't just provide franchise opportunities – it provides investment opportunities. For more information, visit premiumservicebrands.com.
– Rose Mango