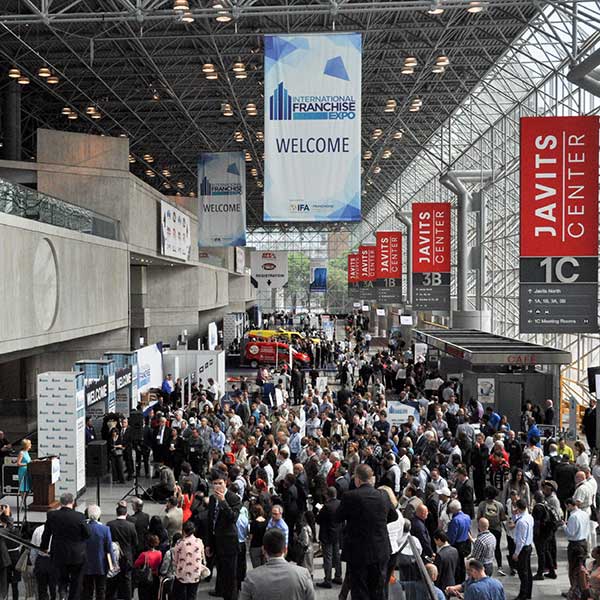 Read on for the best practices for franchisors looking to maximize their trade show experience and leave with quality franchise leads. By John Erich

As the hunt for quality leads continues to run the franchise game, franchisors are turning to expos for that rare face-to-face opportunity to interact with prospects. With proper preparation and follow-up, franchise expos have the power to out-beat others sales tactics while moving the needle to close deals.
Upcoming is Franchise Expo Nashville, set to debut March 20-21, 2020 at the Music City Center. The event will bring together franchisors and prospective franchisees eager to join the rapidly growing and successful $700+ billion franchise industry. Below are best practices for franchisors looking to maximize their trade show experience and leave with quality franchise leads.
Prepare Ahead of Time
Successful exhibitors plan their trade show strategy ahead of time. Ensure that your franchise development team understands the underlying goal you are trying to achieve, whether it is following up with previous leads, acquiring new leads, networking with other franchisors in your industry, etc.
Invite Prospects
Be sure to make advance appointments with key customers and prospects. At minimum, send out advance invitations to draw visitors to your booth. If you have locations in the area, consider sticking around and hosting an open house for prospects to get an even better understanding of the franchise opportunity by experiencing the brand.
Train Your Booth Staff
The people you choose to man your both should not only be a reflection of your company, but collectively they should be able to deliver a consistent message. The key to an effective trade show is focus. First, avoid wasting time with visitors who aren't serious. Pro tip: Invite a franchisee to join you at the booth to provide first-hand knowledge and expertise to those considering to invest.
Invest in Your Booth Setup
Draw people to your booth with clear signage and promote your brand with sampling or some type of expo promotion to create additional interest from attendees.
Always Follow-Up
Use a lead scanner to capture attendee info at the expo. After the show, quickly follow up with those who expressed the most interest…time is of the essence. Also be sure to track the results of your efforts (i.e. how many leads resulted in sales, how long it took to close those deals, etc.). Not only will the data give you a sense of ROI, but you can use the metrics as a benchmark against other shows.
Value Contact
As franchisors continue to enhance their lead-generation methods with technology, social networking, and mobile application tools, they should never overlook or underestimate the value of meeting people in person, where real transactions and serious business decisions are most often made.
Franchisors seeking to exhibit at an upcoming MFV Expo, please contact: Sheila Fischer, Sheila.Fischer@comexposium.com.
– John Erich
About the Author: John Erich, MFV Director of Marketing, brings 20 years of proven experience in the trade show industry, specifically in marketing, sales and show management with companies such as the Craft & Hobby Association and George Little Management. John oversees all aspects of marketing, media, and communications for MFV's domestic franchise shows.