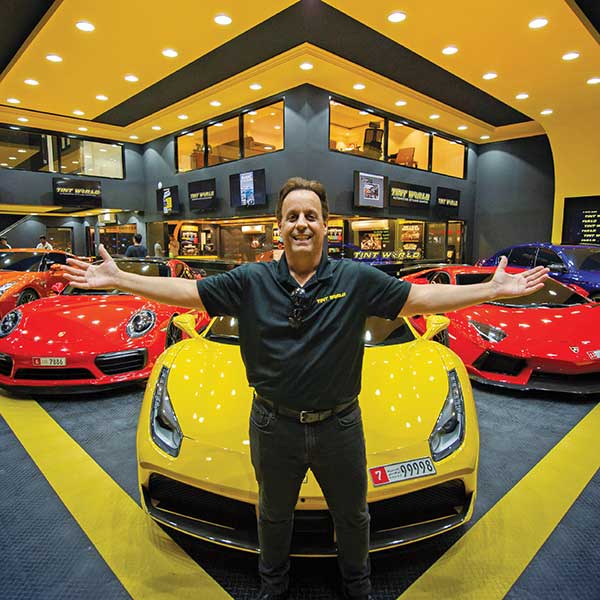 Tint World CEO Charles Bonfiglio shares his 7 Point Formula for Success. By Cindy Charette
With beginnings dating to 1982, Tint World opened its first Automotive Styling Center in Fort Lauderdale, Florida. The business quickly grew into its own unique niche, focusing on automotive aftermarket products and services. Eventually, Tint World's business grew to six locations and, as inquiries about franchise opportunities began to surface, the decision was made to begin franchising in 2007.
The franchise systems that make Tint World the successful, award-winning brand it is today were developed by CEO Charles Bonfiglio. Bonfiglio shares, "I began leveraging franchising at 21 years old, with my first automotive franchise and grew 10 franchise locations. After 30 years of acquiring specialized skills through developing franchise ownership, I was empowered to leverage and develop my own franchise brand and provide others the fast track to owning franchise businesses to create their financial and lifestyle success."
Tint World currently has nearly 80 franchises in the U.S. and internationally, and all of its locations are owned by franchisees. Because corporate does not own any stores, it can focus on supporting its franchisees, all of whom are considered a part of the Tint World family. Bonfiglio said he strongly believes, "If you get the culture right, the money will come. Spend the first years transforming your company's approach, process, and personality. This will increase your gross revenue while driving net revenue up. In any business, it's essential to define and keep sight of what inspires your team. Nearly every group begins with passion and holding on to that passion is vital to success."
Bonfiglio's 7 Point Formula for Success
1: Owner Profitability
High-profit margins for franchisees are Tint World's #1 priority. Their goal is to support all franchisees in maximizing the still-untapped automotive aftermarket industry. Tint World understands that enhancing operational-level profits results in everyone's success.
2: Superior Personnel
Tint World offers a program that covers all aspects of staffing and training, which, in turn, provides a highly desirable opportunity to have an exciting career in a fun and profitable industry. This also means that customers of Tint World receive services from thoroughly trained, competent technicians they can trust.
3: Expanded Services
Tint World is a complete, one-stop "Automotive Styling Center" divided into three specialized departments: Window Tinting and Film, Mobile Electronics and Accessories, and Detailing and Reconditioning. Within these specialized departments, each Tint World location also has the opportunity to bring in revenue from up to 20 profit centers. Additionally, Tint World's products and services are always evolving as corporate looks for the newest offerings, which ensures that Tint World is always on top.
4: Outstanding facilities
Tint World has designed a bright, attractive studio-style center. The exterior design is not only inviting, but it also creates a professional first impression reflective of the professional services customers receive once inside. Tint World's state-of-the-art interactive showroom displays, advanced service equipment, and exceptionally well-trained staff will fulfill customers' expectations.
5: Quality Products
Only top-of-the-line, nationally recognized products are installed at Tint World. Relationships with high-quality manufacturers and vendors have been created in order to pass along only the best products to franchisees. These vendors not only provide additional support to franchisees through reduced pricing, but they also support Tint World's training and marketing programs.
6: Effective Marketing & Advertising
Tint World's innovative marketing and advertising campaigns are developed through a combined strategy of demographic message targeting and creative words, images, and digital marketing. With this approach, Tint World is able to introduce new customers to its business and reinforce existing customer confidence.
7: Continuous Improvement
Tint World routinely improves and updates its operating procedures and technology to move the organization forward in growth. Ideas and opinions from its franchisees are welcomed and encouraged to ensure the forward movement of the Tint World brand.
Having over 35 years of experience in the automotive industry, Tint World is one of the largest and fastest-growing franchises in the U.S., with a solid, proven concept. For further information, visit tintworldfranchise.com.
– Cindy Charette