Click here for stylized version of Franchise Dictionary Magazine's December issue.
Click here for the digital version of December articles.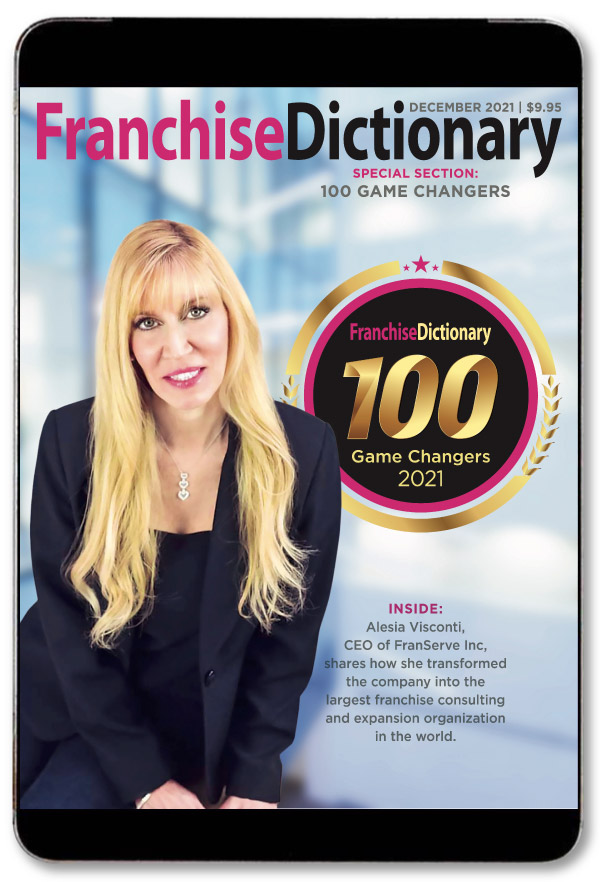 December 2021 Articles
Departments
While over 20 years of management experience, including working in the restaurant industry as a teenager and owning a full-service 150-seat restaurant, has helped Geoff Garrity grow his Sarasota, Florida, Island Fin Poké location, there is one significant element that has acted as a driving force behind all his decisions: passion. By Brianna Bohn
Features
Protecting homes and businesses from the age-old problem of pests and wildlife intrusion is what Complete Pest Solutions is all about. Founded in 2008 and franchised in 2019, this emerging concept combines the best of two businesses into one brand. By Jorgette Krsulic
Assisting Hands® Home Care is one of the leading in-home care franchises, emphasizing exceptional customer service and personalized care. The brand provides its franchise owners a proven and scalable business model supported by a leadership team that is second to none in the industry. By Nancy E. Williams
WaterStation Technology (WST), the developer of groundbreaking self-serve purification systems, is thrilled to offer a new single-serve machine named Drink Up. According to Kristi Humphrey, vice president of investor development, this move continues to meet the demands of active customers and places WST a step ahead in areas that are outlawing single-use plastics. By Elice Morgenson
The Number One mobile pet grooming service worldwide, Aussie Pet Mobile offers franchisees all the tools to run a solid, rewarding business. And with the pet industry consistently expanding in the U.S., the opportunity jumps out as limitless for entrepreneurs. By Lizzy Yeserski
"Every staffing franchise has the same value proposition." This is exactly what NEXTAFF Founders, Cary Daniel, and James Windmiller discovered after selling their first staffing company in 2003. By Lana Mazin
Following a membership-based business model, CorporateConnections® offers multiple tangible and intangible benefits to its members, and by extension, its owners. The brand is built for extraordinary people pursuing extraordinary experiences while leading extraordinary lives. By Lizzy Yeserski
For over 30 years, Signworld has been a national organization with more than 360 independently owned sign companies, providing commercial custom signage and graphics. By Nancy E. Williams
Chino-Mex, an emerging food concept that satisfies "los munchies" with delicious Chinese-Mexican cuisine, is excited to expand and become a staple of even more communities. The family-owned-and-operated fusion restaurant franchise aims to create an enjoyable dining experience that solves the question that is nagging families across the country: What should we eat? By Brianna Bohn
Home Helpers® Home Care is on track to have yet another record-smashing year, with no plans to halt growth anytime soon. "In September, the Home Helpers development team awarded a record-breaking eight new franchise offices, the most awarded in a one-month period," confirmed Bobby Kelley, assistant vice president of franchise development. By Lizzy Yeserski
Gretchen San Miguel, MD, chief medical officer (CMO) for Medi-Weightloss, is board-certified in family medicine and obesity medicine, and she is a geriatrician. While running her practice for 10 years, she also had the opportunity to work with the administration of Florida Hospital, now known as AdventHealth, in a leadership role where she helped failing physician offices thrive. By Cindy Charette
It's been a busy 2021 for Grand Welcome. New franchisees are signing up faster than you can book a last-minute getaway at one of the brand's beautiful properties. By Lizzy Yeserski
Offering a wonderful opportunity for success through a proven system of operation and a built-in support network, franchise ownership can truly be considered a game changer. With a moderate capital investment, budding entrepreneurs can grow a business with plenty of recognition, often with a built-in customer base and demonstrated resources. By Jessica Petrucelli
Knockout Sports Bar brings a lot more to the game than just a bar with wall-to-wall TVs. "The official name for our wings is the Game-Changing Wings. We changed the game in the wing business 20 years ago in New York City when I brought the recipe from South Korea, where they are known to have the best wings in the world by far," said Angelo Park, founder and CEO. By Heidi Lubrani
On November 26, 30 new Network In Action (NIA) groups were launched simultaneously using a revolutionary virtual model. NIA is a business networking group for professionals that utilizes innovative technology and a professionally trained group leader to meet the needs of modern business owners. By Elice Morgenson
PayMore Stores has revolutionized the second-hand electronics industry with a concept that has an eco-friendly purpose. The brand, which has walk-in locations for customers to safely buy, sell and trade electronics, has repurposed close to 1.5 million devices since 2009, keeping the electronics from filling up landfills. By Brianna Bohn
My Rita's story is a bit unique. I started as a treat team member, scooping Rita's Ice at the very first location 18 years ago. Rita's daughter (yes, the Rita!) gave me my first job back in high school. By Cindy Charette
Rachel's Kitchen may be strictly Nevada-based, but the gourmet fast-casual eatery has garnered much national acclaim since franchising in 2008. Recognized by HuffPost as the best 'guilt-free alternative' in their guide to the hottest airport restaurants in the U.S., the brand has some serious industry cred outside of its esteemed Las Vegas–area string of restaurants. By Jessica Petrucelli
Shop Talk
Why do customers buy from your franchisees? That should be the question at the root of every decision a franchisor makes. Does the system continue to deliver the brand promise that created the original profitable unit that pushed the founder into franchising? By Tom Spadea
Earlier this fall, our community lost a giant. Jerry Darnell, the "Mayor of Franchising," spent decades making franchising what it is today. He was a mentor to countless franchisees, suppliers, and franchise development professionals. By Jack Monson
A system is an organized framework or method. Follow a system and your chances of failure decrease dramatically. There's a system to flying an aircraft, driving a car, programming a computer, and so on. By Don Clayton
Franchise Business Radio: Tune Into the Franchise Business Radio show to hear from Franchise Marketing Systems President, Chris Conner on steps to franchise your business, key reasons why franchising is a viable growth strategy and more.
There are good game changers and not so good game changers. And in life, we need to work with both. By Nancy Friedman
Sign up for the Franchise Dictionary Magazine Newsletter