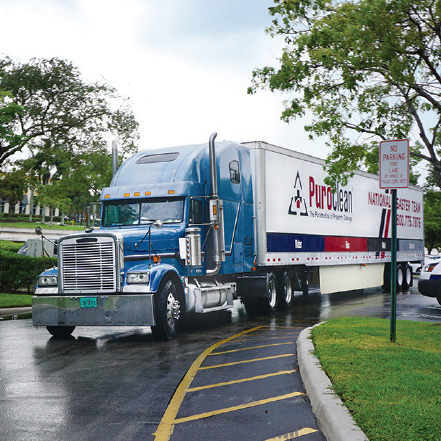 Peter Shine, a retired New York City police officer, and Robert Rodriguez, who has been in the remediation industry since he was a teenager, met while working at a restoration company. By Cindy Charette
Peter Shine, a retired New York City police officer, and Robert Rodriguez, who has been in the remediation industry since he was a teenager, met while working at a restoration company. After Hurricane Sandy hit their area in 2012, they looked at each other and wondered why they weren't running their own business with Shine's experience in sales and Rodriguez's in operations. The two decided to become partners and open Professional Restoration Services, LLC, which became a highly successful restoration company in New Jersey. The business was jump-started, and jobs came to them right away. Over the next seven and a half years, the business was consistently busy and growing.
Earlier this year, with plans to grow their business even more, Shine and Rodriguez realized that, although they could build their business to a point by themselves, they would need help landing larger commercial jobs. When they discovered that converting their existing business to a PuroClean franchise would help with this goal, they met with the PuroClean corporate team.
PuroClean provides emergency restoration services to insurance partners and property owners who need help with mold, water damage, smoke, and fire or biohazard cleanup. Since being founded in 1991 and franchised in 2001, PuroClean now has over 360 units, with plans for continued growth. According to the brand, PuroClean franchisees service a $210 billion industry that is recession-resistant and has one of the largest customer bases in the country: customers who submit property claims through their insurance companies.
After learning more about the brand and meeting with the leaders behind PuroClean – Steve White, president and COO; Mark W. Davis, CEO and chairman; and Frank Torre, vice chairman – the partners decided to convert their existing restoration business into three PuroClean territories along the Gold Coast of New Jersey. Since having the PuroClean brand name behind them and the opportunity to work with Signal Restoration Services, PuroClean's sister company that covers commercial large-loss jobs, the work has been non-stop. Shine shared: "It has been an amazing ride, and I can tell you: it's only been four and a half months, and I'm so looking forward to the next 15 to 20 years with them. I truly am."
Signal Restoration Services specializes in large-loss property damage restoration from fire, wind, or water damage and other disasters. Clients come from several industries, such as healthcare, education, government, hospitality, multi-family, retail and industrial. Therefore, when a major weather event occurs, such as when Hurricane Ida hit New Jersey earlier this year, PuroClean and Signal are able to join forces and mobilize teams to help those with significant losses.
With a team that has grown to 38 employees, Shine said: "Joining PuroClean has almost doubled our business already." In fact, some of Shine and Rodriguez's harder-to-reach clients who wanted to see a corporate support system behind the partners have started giving them their business. "I started getting business just by having PuroClean behind me."
Additionally, the comprehensive training, support and resources provided by PuroClean, as well as contracts backed by the brand's legal team, have given Shine and Rodriguez a higher comfort level when running their business. Shine added: "The people at the home office are responsive. Truly, the support that comes from PuroClean is top-notch, and that has made me feel very comfortable being a part of this team."
For more information on a PuroClean franchise, visit purocleanfranchise.com.
– Cindy Charette