Click here for stylized version of Franchise Dictionary Magazine's October issue.
Click here for the digital version of October articles.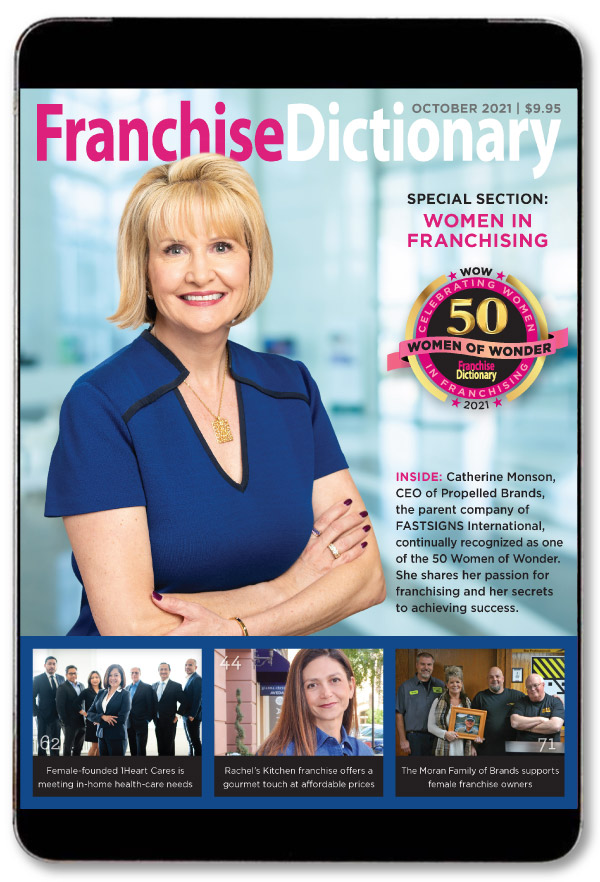 October 2021 Articles
Departments
This is a wonderful time for women to become franchise owners. Female ownership is on the rise and will continue to be. There are diverse opportunities for women across all sectors, and we see women who have been held back in corporate life able to excel in franchise ownership – without restrictions! By Alesia Visconti
Features
The Island Fin Poké franchise is a dream realized by Mark Setterington. He wanted to create a fast-casual Hawaiian-style concept that serves delicious, super-nutritious poke bowls of 480-700 calories with 40 grams of protein. By Rose Mango
When Samir Desai founded D Spot Dessert Cafe in 2014, his goal was to create a sweet and memorable atmosphere where family and friends could enjoy a mouth-watering dessert. By Jessica Jones
As CEO of Propelled Brands, the parent company of Fastsigns International, the largest sign and visual communications franchisor in North America – along with the recent acquisitions of NerdsToGo, My Salon Suite and Salon Plaza – Catherine Monson is responsible for overseeing the operations of over 950 independently owned and operated franchised businesses in nine countries. By Jessica Jones
Each year, we reach out to you, our readers, and ask you to nominate a woman franchisor who has gone above and beyond her business's expectations and has inspired you the most. This year, results left us awestruck. We had more nominations than ever before!
In the world of franchising, Fundraising University distinguishes itself by creating positive, long-lasting change in schools and communities. The company's mission (and business model) revolves around outreach and impacting the lives of local young people nationwide. By Lizzy Yeserski
Franchise owner, Kevin Krull, has a special relationship with 1-800 WATER DAMAGE. He owns two territories in Ann Arbor, Michigan, the same city where the company's headquarters is located. By Elice Morgenson
Featuring authentic German food and an undeniably festive atmosphere, Hofbräuhaus of America has grown rapidly since launching in the U.S. and franchising in 2005. Well-known for its extensive list of Hofbräu beers, the restaurant is also famous for its Bavarian cuisine, offering Weisswürste sausages, freshly baked pretzels, perfectly breaded Schnitzel, and genuine Käsespätzle – homemade German noodles with Swiss cheese. By Jessica Jones
The Assisting Hands® Home Care leadership team has over 25 years of experience in the health-care industry and business operations, including finance, marketing and home health franchising. Andrew Dahle started his career with Assisting Hands in 2010 at a local office in Nampa, Idaho. By Nancy E. Williams
Shop Talk
It is so tempting for a franchisor to only tout what they do well, the good decisions they have made, and the incredible systems they have built. Although it may sound counterintuitive, a big part of the value of experienced brands comes from all the things they didn't do well over the years. By Tom Spadea
At Tenet Financial Group, we like to tell our clients that franchise funding is not "one size fits all." Because of our deep knowledge base and experience, we can attest to this statement and actually create opportunities for franchise buyers to understand every available option through our consultative approach. By Jodi Rowell
I have no new news to share this month. But I do have some words of encouragement to all franchisees and future small-business owners: Welcome to October. Welcome to The Fourth Quarter of 2021. And, as one of my rock 'n' roll heroes once said, Welcome to the Jungle. By Jack Monson
Patrick Laforet, a well-known Canadian franchise expert and author, recently quoted an excerpt from Dr. Martin Luther King Jr.: "Take the first step in faith. You don't have to see the whole staircase, just take the first step." By Don Clayton
Successfully funding franchisees since 1997, First Financial is your complete source for all your small-business financing needs from SBA Express Loans, equipment leasing, and business acquisition, to Roll-Over Business Start-up (ROBS) plans. By Suzy Granger
Tune Into the Franchise Business Radio show to hear about the journey of navigating the process of franchise selection, transitioning into franchise business ownership, and insight on the senior-care sector from a franchisee and franchisor perspective.
I was recently reading what I thought, and hoped, would be a good article on customer service. But I was turned off very quickly. By Nancy Friedman
Sign up for the Franchise Dictionary Magazine Newsletter