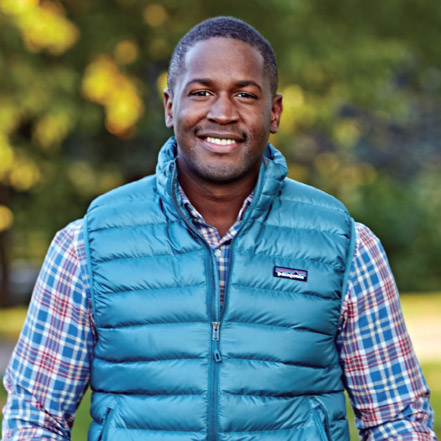 Upon leaving the military in 2020, Steven Brown dabbled in short-term rentals before exploring additional options. That's when he stumbled on Grand Welcome – and was immediately captivated. By Lizzy Yeserski
The Future Looks Bright
Upon leaving the military in 2020, Steven Brown dabbled in short-term rentals before exploring additional options. That's when he stumbled on Grand Welcome – and was immediately captivated.
Grand Welcome stands apart from industry competitors as the premier full-service vacation rental management company, relying on local ownership to establish consistency and guarantee quality.
"What I liked about it was how everything was integrated," said Brown. "They had great systems in place to alleviate some of the stresses and time that a mom-and-pop shop might incur."
Alongside partner Alexander Buchanan, Brown officially launched his Grand Welcome business in Nashville, Tennessee, this past March. He concentrates on sales and business development, while Buchanan focuses on backend operations.
Brown recalls the opportunity as one he couldn't pass up. "A lot of franchises have huge overhead; the initial costs are a lot, and it takes a very long time to get started," he said. "But with Grand Welcome, it was quick and easy, and the costs to entry versus the high reward was just amazing."
Franchise owners have no debt associated with the homes they manage. "You can make it as large or as small as you want it. That's the perfect thing," Brown said. "You don't need 100 homes. You own no homes, so your inherent risk is zero." That leads to 100% flexibility and scalability.
Plus, Grand Welcome backs up franchisees with all areas of guest services and technology. Brown appreciates the support and tools that allow him to add more luxury rentals to his portfolio.
"They're very willing to adapt, adjust, grow, and create processes and procedures to be successful," he said. "You have a corporation that wants you to succeed, and they give you the freedom of movement to make it your own."
Eventually, he hopes to acquire additional areas in Tennessee, as well as expand into other territories and perform community outreach.
For Steven Brown, the future looks as bright as a highly anticipated vacation.
For more information about franchising opportunities with Grand Welcome, head to  grandwelcomefranchise.com today.
– Lizzy Yeserski