Click here for stylized version of Franchise Dictionary Magazine's February issue.
Click here for the digital version of February articles.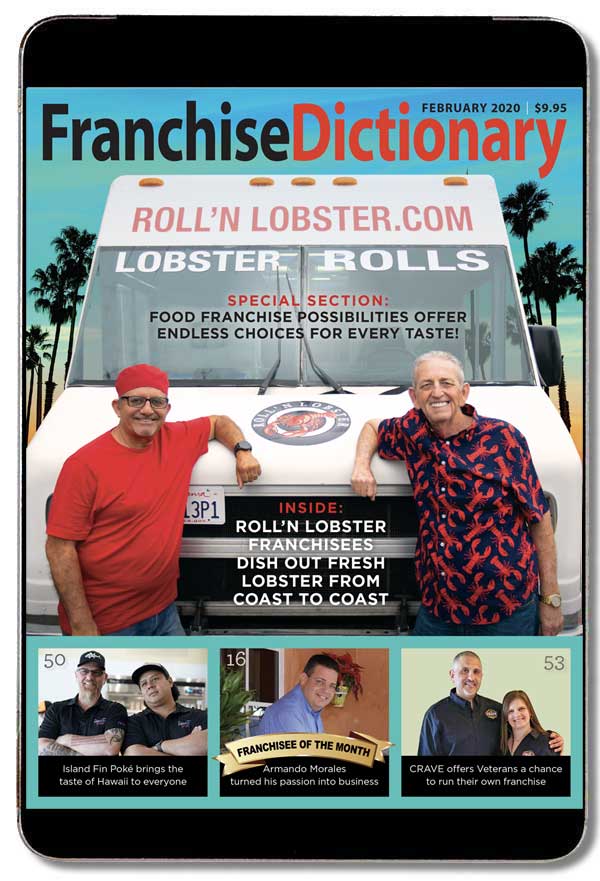 February 2020 Articles
Departments
…an encouraging environment focusing not only on fitness, but also on motivation and nutrition. By Cindy Charette
Features
With the increasing number of natural disasters such as earthquakes, storms, floods, and heat waves, Restoration 1 is a recession-proof necessity for its customers. By Rochelle Miller
For many entrepreneurs, the only thing holding them back from having a productive and successful business is a financial history that is less than perfect. Global Financial Training Program allows you to earn 6-figures by connecting clients with less than perfect credit to lenders that want to help. By Elice Morgenson
With more than 3,500 franchises available, FranServe consultants not only help aspiring entrepreneurs navigate through the daunting process of selecting a business, but they also foster key relationships with franchisors. By Rochelle Miller
Have you ever dreamt of owning a business that provides a service that people really need, and helps you make a great living? PuroClean may be the right decision for you. By Rochelle Miller
Shop Talk
The food, beverage and restaurant franchises has always been an attractive investment for many franchise seekers. The reason: everyone needs to eat. By Sue Bennett
Diversity in the workplace extends beyond gender, race, and nationality. It also includes a variety of thoughts and ideas from team members. By Alesia Visconti
Franchise consulting isn't a "job." It is a path to earn a living with love and passion while helping others achieve their dream jobs of business ownership. By Don Clayton
The Franchise Business Radio show is a platform to bring together franchise professionals to connect, educate, and collaborate to serve the franchise community and those considering franchise ownership.
Sign up for the Franchise Dictionary Magazine Newsletter