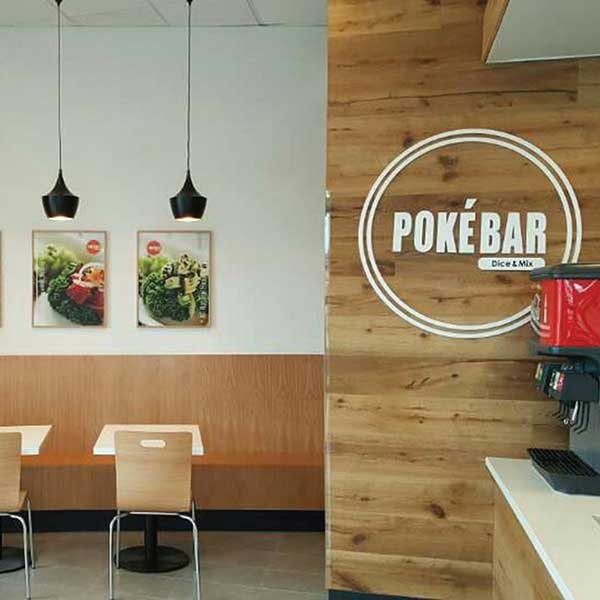 Poké Bar has put its own unique touch on this traditional dish by making it fast, fresh, and entirely the diner's choice to design. By Elice Morgenson
Poké Bar offers diners options that are fresh and exciting
Sushi lovers and fans of the Hawaiian-style poké will have a delightful reaction when they learn that a California company has merged the two styles into a delicious and memorable blend. Poké Bar has taken fresh fish and unusual ingredients to create just the choice many people have been looking for, a completely customizable poké bowl.
The adventure began in 1989 with the opening of Yanagi Sushi, a popular spot in Northridge, California. At Yanagi Sushi, the poké appetizer was one of the most popular items, and this sparked the idea to open a dedicated poké style restaurant. In early 2017 Yoon Ju and Jason Park started franchising their unique poké style, with a focus on fast-casual dining and healthy eating.
Poké (pronounced "POH-keh") bowls are a Hawaiian staple that features raw, diced fish traditionally tossed with rice, vegetables, and sauces. Poké Bar has put its own unique touch on this traditional dish by making it fast, fresh, and entirely the diner's choice to design. The bowl starts with a base of rice, noodles, or greens, and from there, your selection of fish, mix-ins, sauces, sides, and toppings completes the delicious creation. The method seems simple, but with five bases, eight proteins, nine mix-ins, eight sauces, three sides, and eight different toppings; you will never get tired of the combinations. Each bowl truly becomes a tantalizing work of epicurean art.
One difficulty many restaurant-goers run into is the standard portion size can be either an unreasonably big or small standard. Poké Bar keeps every diner in mind by offering small, medium, and large-sized meals. They also price these meals reasonably enough that many are quick to become regulars, and according to reviews, only wish they could "eat there every day". While Poké Bar keeps costs in mind for their offerings, they never sacrifice quality, and fish and fresh ingredients are delivered daily. Raw fish and vegetables depend on the quality and freshness to maintain their level of flavor.
Poké Bar has taken the country by storm with its unique approach to the fast-paced health food industry. Poké Bar already has 58 open locations in 10 states (California, Oregon, North Carolina, Washington, Arizona, Hawaii, Illinois, Texas, Georgia, New York), and 5 locations in Canada. They are looking to expand to more international locations with 3 in New Zealand already. This global expansion helps them develop new techniques and bring their brand even further.
They aggressively apply modern marketing techniques to keep them a step ahead of the competition through the use of social media marketing and delivery options, including Grub-Hub. If you're thinking about joining the Poké Bar family, better get a move on. They are getting more popular by the minute. Learn more at: https://www.ilovepokebar.com.
– Elice Morgenson