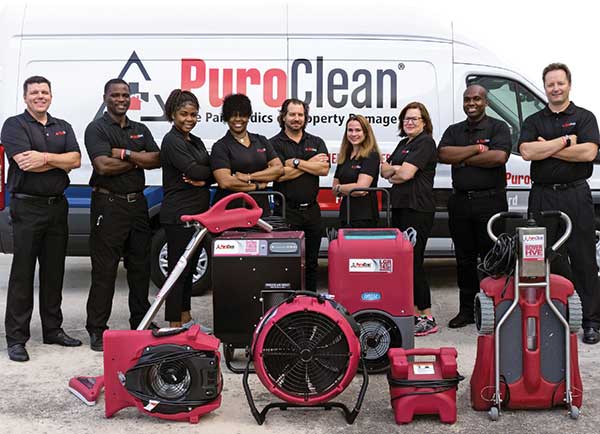 Have you ever dreamt of owning a business that provides a service that people really need, and helps you make a great living? PuroClean may be the right decision for you. By Rochelle Miller
Have you ever dreamt of business ownership? What about a business that you would be proud to own, one that provides a service that people really need, and helps you make a great living? If you answered – Yes – then PuroClean may be the right decision to pursue your passion.
"Property damage is never expected, but it is a constant reality in today's world, producing opportunities to help others while generating revenue for each franchise owner's business," explained Steve White, the company's president and chief operating officer. "The ideal PuroClean franchise owner has a servant heart, leads by example and is passionate about serving their local community."
Experience in restoration is not required for prospective candidates, as comprehensive training is provided to new franchise owners at the company's Corporate Headquarters in Tamarac, Florida. The intensive three-week program at their $1.5 million state-of-the-art training facility includes technical training on remediation techniques as well as sales, marketing, accounting, business development, and operations training. After completion, franchise owner education continues with hands-on training by a regional director in the local community, ongoing certification courses, and even online learning modules through PuroClean's Online Academy.
PuroClean strives to provide unparalleled support for all of their franchise owners, whether it's through technology or through the tools they receive during training to help them make a difference in their community. Each franchise owner is a well-respected leader that will have the ability to develop strong ties to their local community to support their neighbors during their worst time. As experts, franchise owners and their well-trained team know exactly how to provide world-class service, restore the property to its pre-loss condition and get the homeowner's life back in order.
"As a franchise owner, you control your own success while still benefiting from the full support of the PuroClean network to help you kickstart a life-long dream of finding success while serving your community," White said.
For additional information about franchising opportunities, visit PuroCleanFranchise.com or call (800) 351-2282.
– Rochelle Miller