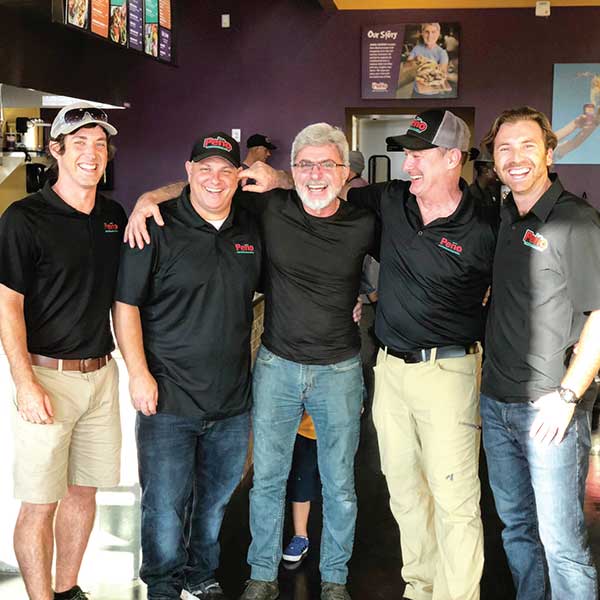 Peño Grill is the fast-casual eatery featuring Mediterranean classics, like hummus and gyros – but there's always a twist. By Rochelle Miller
Walk into most restaurants nowadays, and it's not uncommon to see patrons staring at their phones instead of having conversations. But the Peño Grill is not your typical restaurant.
"Rarely will you go into our restaurants and see anyone on their phone. People are talking to each other, taking bites off one another's plates," said Rocco Quaranto, Partner and Chief Marketing Officer.
The combination of great food and a fun atmosphere seems to be the key to the brand's success. Music can be heard at every location, with each franchisee choosing what tunes to play. "We want the music to be at the right volume. We want people to be having a good time," Quaranto said.
In fact, the brand's three core values are people, food, and music. The fast-casual eatery features Mediterranean classics, like hummus and gyros, but there's always a twist. "Our food is very colorful, very flavorful, and something customers can't get somewhere else," explained Quaranto.
The company's founder, Jamal Haddad, not only serves as the president of Peño Grill but also creates every recipe. "He thinks over every menu item, how it's going to taste, and how the customer experience is going to be when they bite into a wrap or dig into that bowl," Quaranto said. In fact, he said that he often hears rave reviews about how authentic the food tastes from customers who are from the Middle East or were stationed there while in the military. "There's nothing in our restaurant that you're going to get somewhere else."
To that end, new menu options are always being introduced to keep the menu fresh and customers coming back. One of the most popular menu items is a Caribbean chicken wrap that debuted last year. It features grilled chicken, plantains, and jalapeño hummus. "It's unlike any other wrap you've ever had," Quaranto said.
Even the children's menu is innovative. For example, grilled cheese is made with provolone and feta on pita bread rather than predictable American cheese on white bread. There are also chicken kabobs to entice children to sample Mediterranean cuisine over mainstays like chicken fingers.
According to Quaranto, although the restaurant is fast casual, the food is as healthy as it is fresh.
"People aren't going to sit down for a two-hour long meal anymore, but they still want something healthy. You can be healthy, but it could be out of the freezer," explained Quaranto, who added that Peño Grill uses only fresh ingredients.
As a young brand, Quaranto believes his franchise has much to offer investors "There's a lot of open territory. There are a lot of green pastures. A lot of the seasoned brands are pretty much sold out," he explained.
"Working with us, you are truly working with a brand that cares," Quaranto said. "We are going to be there from the very beginning and see it as a partnership from beginning to end."
For more information about franchising opportunities with Peño Mediterranean Grill, visit https://www.penogrill.com/own-a-franchise or call 910-465-2386.
– Rochelle Miller