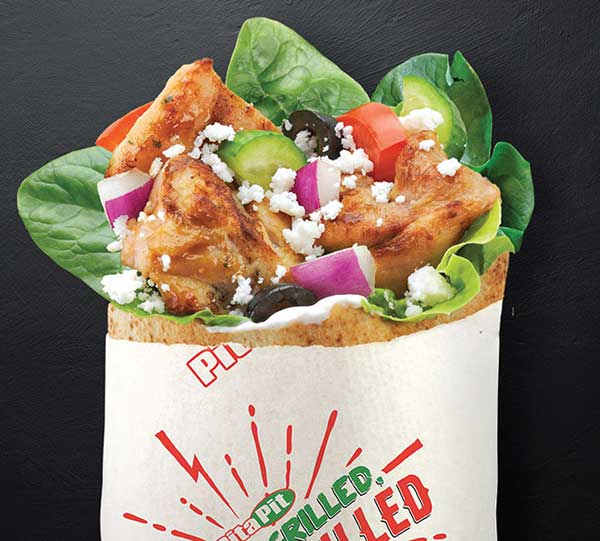 With 8 new Artisan pita creations and the addition BEYOND MEAT to their menu, franchising with Pita Pit is a brilliant solution to anyone who loves flavorful, healthy sandwich options. By Rose Mango
Pita Pit brings "Beyond Meat" meat substitute to the menu and people are loving it
Keepin' It Fresh is their motto, and Pita Pit means it! The freshness of their product is what everyone talks about. The endless choices on their menu seriously cause you to pause and try something new that you just hadn't thought of yet- until you see what Pita Pit has created.
Their newest addition to the menu is the beloved BEYOND MEAT, which is a substitute for those who prefer non-meat pitas. Add to that is the addition of the new 8 Artisan pita creations that are all the rave. Pitas like the Aloha or Awakin W Bacon, the Baja Chicken Bacon Ranch, or the Boom Boom Black Bean are just a few of the tantalizing choices Pita Pit has added to their menu. It is no wonder people are calling it a craze for pita lovers everywhere.
Let's talk about Pita Pits franchise growth. Not only is their menu taking customers by storm, but Pita Pit is growing with over 580 stores worldwide. Franchising with Pita Pit is a brilliant solution to anyone who loves flavorful, healthy sandwich options. The best part is, there is no experience necessary to own your own Pita Pit. Pita Pit franchisee investors don't need to have a background in the restaurant industry to open a healthy sandwich franchise. Pita Pit is looking for highly-motivated investors who are willing to put in the work to grow their business. Pita Pit gives you their coveted comprehensive training program and one-on-one guidance from their corporate team. Franchisees are mastering Pita Pit's time-tested training and business model. Pita Pit goes to the extreme to help franchisees get the most out of their investment.
Pita Pit franchisees spend nine days taking part in Pita Pit 101, a comprehensive training program held at their headquarters in Coeur d'Alene, Idaho. There, franchisees learn the insider secrets of their systems and processes and get many valuable tools to keep their restaurant running smoothly.
Pita Pit is the quick-service restaurant (QSR) of the future! They've spent years dedicating themselves to a fresh and healthy restaurant experience that doesn't sacrifice convenience. With a simple business model and a time-tested menu that customers love, they're just the healthy sandwich franchise you've been looking for. Visit: https://franchisepitapitusa.com.
– Rose Mango