Click here for stylized version of Franchise Dictionary Magazine's November issue.
Click here for the digital version of November articles.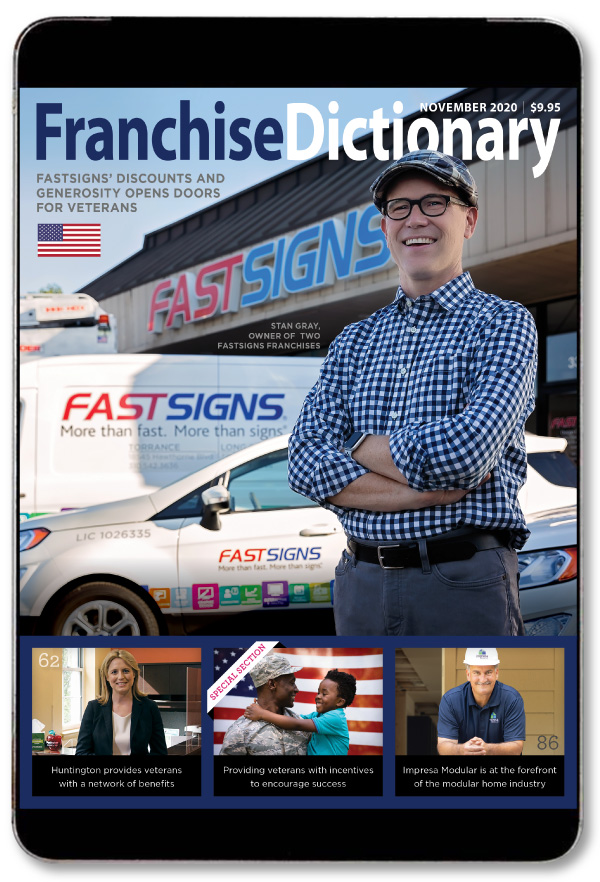 November 2020 Articles
Departments
Dog Training Elite's founder, John Mestas, knew from an early age he wanted to pursue a career that allowed him to interact with dogs. He spent many years honing his training skills by entering dogs in obedience trials. In 1976, Mestas opened Arrow Kennels, named after his first obedience trial dog, Arrow. He began training dogs who boarded at the kennels, and before long, the training services offered by Mestas became the most lucrative aspect of the business.
Features
Ashley Mol was always passionate about health and fitness. Active in several sports in high school, she played Division I soccer in college and studied fitness and health promotion before parlaying her education and experience into a career. By Jessica Jones
With traditional money lenders becoming more risk averse during the COVID-19 crisis, loans have become harder to obtain. But for Global Financial, a national company which secures financing for businesses and real estate investors who have been turned down by banks, the pandemic has bolstered business. By Jessica Jones
Jabz Boxing studios across the country opened their doors for a week in October to host donation-based classes in partnership with Bright Pink to raise funds to promote breast and ovarian health awareness. By Cindy Charette
As a member of the U.S. Marine Corps, Brandon J. Anderson's mission was to protect his fellow Americans. Today, Anderson is a veteran, and his mission is no different as a franchise consultant with FranServe, Inc., the world's largest franchise consulting organization. By Rochelle Miller
Digital currency is in demand worldwide, driving increased usage of cryptocurrency automatic teller machines and interest among potential investors in a ground-floor opportunity with Bitbox ATM, said Joel Carlsen, Bitbox ATM franchise director. By Cindy Charette
Shop Talk
When I was a young girl, my father taught me a valuable life lesson about competition. He said: "When you compete with others, you become bitter. But when you compete with yourself, you become better." The lesson has served me well, especially in a world where social media can play havoc and magnify the "keeping up with the Joneses" syndrome for both businesses and individuals alike. By Alesia Visconti
Veterans often make smart business owners due to their superior leadership skills. Veterans are trained to handle many diverse challenges in changing conditions. They are adept with team dynamics, and they understand better than anyone that professional development is a continuous process. By Sherri Seiber
This has been an interesting and unexpected year, to say the least. But those of us that are business owners knew when we signed up that to be successful, we had to be prepared for the unexpected. This year has certainly tested that theory. By Tom Spadea
Veterans are taking up an increasing slice of the franchise market. Despite making up just under 8% of the U.S. population, they account for 15% (roughly one in every seven) U.S. franchise owners. By Sue Bennett
We hear it all the time: "Veterans are the best candidates for becoming a franchise owner because of the leadership, team work, understanding chain of command, motivation, ability to overcome adversity, and many other skills learned in the military." By Jon P. Skroder
As Certified Franchise Consultants we listen and observe first, then plan. We work with individuals all over this great planet to become entrepreneurs through franchise ownership. Every Individual with whom we consult has different environments, backgrounds, lifestyle preferences, and investment levels. Therefore, it's critical to listen more, speak less and plan accordingly. By Don Clayton
Franchise Business Radio: This episode's guests are Dave Keil, president and COO of Franworth, and Meg Roberts, an operating partner of Franworth and CEO of The Lash Lounge.
We want to introduce you to a new book, The Wealthy Franchisee, written by Scott Greenberg. Greenberg, a renowned business and franchise speaker, provides innovative strategies for business growth and leadership that can elevate the performance of franchisees and their teams. By Rose Mango
Sign up for the Franchise Dictionary Magazine Newsletter