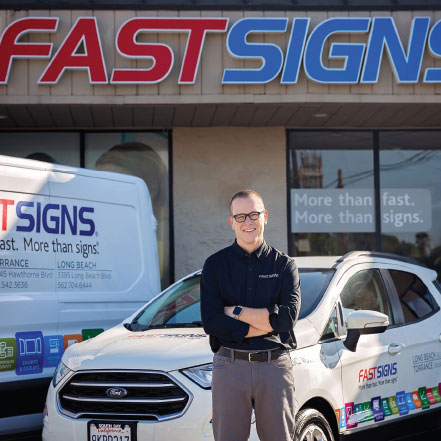 FASTSIGNS, the leading sign, graphics, and visual communications franchise, has been honored by Entrepreneur magazine, which ranked it No. 6 on its 2020 list of the Top Franchises for Veterans. By Rose Mango
FASTSIGNS® Earns National Recognition
FASTSIGNS, the leading sign, graphics, and visual communications franchise, has been honored by Entrepreneur magazine, which ranked it No. 6 on its 2020 list of the Top Franchises for Veterans.
FASTSIGNS participates in the International Franchise Association's VetFran program that provides military veterans with special incentives and assistance to open franchises. FASTSIGNS also offers a special incentive for veterans. It is the only franchise in its industry to offer a 50% discount to veterans, without stipulations, company officials said.
Mark Jameson, chief support and development officer, said, "We take great pride in the programs we've developed at FASTSIGNS, which are designed to support and guide veterans as they transition back into civilian life or look to open a business of their own. Currently, over 12% of franchisees in the FASTSIGNS system are military veterans, and that number continues to grow each year. This recognition is a testament to our commitment to the veteran community, as well as the unlimited potential for success that partnering with FASTSIGNS can bring."
One of the veterans who benefited from FASTSIGNS' incentives and a discounted fee is franchise owner Stan Gray. Gray joined FASTSIGNS in 2015, when he purchased his first store in Long Beach, California. He went on to buy a second location in Torrance, California, three years ago. The Torrance location had been established for 30 years and was among FASTSIGNS' first 100 franchise locations ever opened.
Gray served as a U.S. Navy reservist and was commissioned as an officer in 2009. He was part of the Naval Construction Force, better known as the Seabees.  The Seabees provide responsive military construction support to the Navy and other military branches, constructing base facilities and other related facilities for operations.
As a reservist, Gray also worked a civilian job as an architect but in 2010 the economy was unhealthy and he felt it was time for a change. He took a graphics director position with a real estate/ fund manager where he managed their graphics and communication products. Part of his job was to was to hire sign companies to rebrand the buildings in their portfolio. When speaking to various companies about the projects he was managing, he realized that he was interested in signage as a whole.
Gray began to explore the opportunity to buy a FASTSIGNS franchise and was impressed by FASTSIGNS' generous support for veterans. Their principles and ethics tie in so much with what he believes and what he applies in his day to day living. He knew he had found a good fit and it just happened to be with the leading company in the sign industry.
He was sure that franchising was the path he wanted to take and knew that FASTSIGNS would help on his mission to personal success. Though well experienced in many aspects of business, Gray wanted to be sure that he would get support from the company in areas that weren't familiar to him before signing on. He spoke with many FASTSIGNS franchisees, was pleased with what he heard, and decided FASTSIGNS was an ideal fit.
Gray said the 50% franchise fee discount offered by FASTSIGNS opened up opportunities and paved the way for a healthy financial future for him and his family. He's gratified to be able to provide much-needed signage for businesses, allowing him to play a vital role in his community.
"At the end of the day, we are all on the same mission, whether in uniform or business attire," said Gray. "My experience at FASTSIGNS on a daily basis is exactly that. Even with today's pandemic, we are in this together and getting through it as a brand. If you are a veteran and used to being on one team, with one goal, one mission, this is the franchise for you." Gray said.
To learn more about the FASTSIGNS' veterans package or any other information, visit fastsigns.com.
– Rose Mango