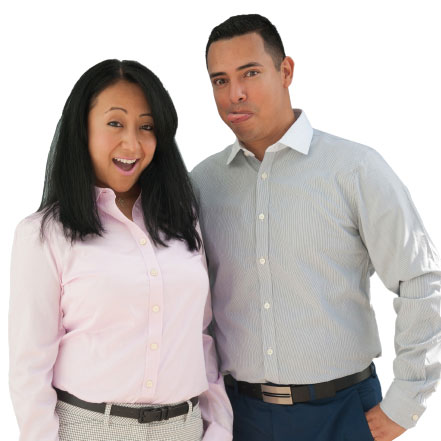 During his seven-year military service, Marine Corps Sgt. Edison Recinos completed several tours in Iraq and took part in the Battle of Fallujah. He also worked with the Navy's medical expeditionary unit to provide humanitarian aid. Upon his return to civilian life in 2007 in his California hometown, Recinos relied heavily on the skills he learned in the military to forge a new career path. By Jessica Jones
Two veterans team to launch a successful Paul Davis Restoration franchise
During his seven-year military service, Marine Corps Sgt. Edison Recinos completed several tours in Iraq and took part in the Battle of Fallujah. He also worked with the Navy's medical expeditionary unit to provide humanitarian aid. Upon his return to civilian life in 2007 in his California hometown, Recinos relied heavily on the skills he learned in the military to forge a new career path.
"My time in the military taught me so much about hard work and integrity, and my travels with the Marine Corps exposed me to so many different cultures and people," Recinos said. "I put each and every one of those lessons to good use when I entered the workforce."
After earning his MBA in finance and accounting, Recinos worked as a mortgage lender and sales representative before becoming an insurance adjuster in 2010. He spent four years investigating and processing policyholder claims and inspecting property damage. During that time, he became familiar with the work of Paul Davis Restoration, a franchise organization that provides cleanup and repair to residential and commercial properties damaged by water, fire, mold, storm and other disasters.
"I admired the Paul Davis model and respected the way they ran things," Recinos said. "I knew I could use my insurance and military background to build a successful business while at the same time giving back to the community, helping people who have suffered a monumental property loss."
Recinos teamed up with Ofelia Lucas, a fellow insurance adjuster and veteran, to launch Paul Davis of the Gables, which provides restoration services in Miami, Florida.
"We saw a great opportunity to continue to serve and help others," said Lucas, who served in the U.S. Air Force for 10 years. "The premise of Paul Davis was completely in line with our military core values and we felt like it was an excellent fit."
Founded in 1966, Paul Davis operates a network of more than 300 independently owned and operated franchises in the U.S. and Canada. Headquartered in Jacksonville, Florida, the company prides itself in putting people and property first throughout the disaster recovery process. Recinos said hiring former military personnel is a company priority.
"This industry is always changing and Paul Davis recognizes that military people are good at adapting to change," Recinos said. "We can multitask and problem solve with ease and the company respects that ability. I think that's why Ofelia and I – two veterans from two different branches of the military – make such a good team. We've taken our military training and applied it here."
Identifying their strengths and weaknesses to determine their business roles, Recinos and Lucas say they were able to build a strong franchise because their personalities and skills are complementary.
"We are both focused and will do whatever is needed to get the job done," Lucas said. "I am responsible for the administrative side of things – procedures of onboarding, training, making sure everyone knows their responsibilities – and Edison works closely on the business development side of things, bringing in new accounts and working in the field handling complaints."
Recinos and Lucas agree they use their military experience on a daily basis.
"My military background made me who I am today," Recinos said. "They teach you in the Marines to always keep going – just push forward and persevere. Today, I use that same mindset in my professional career."
For more information about Paul Davis franchising opportunities visit pauldavisbusiness.com.
– Jessica Jones