Click here for stylized version of Franchise Dictionary Magazine's March issue.
Click here for the digital version of March articles.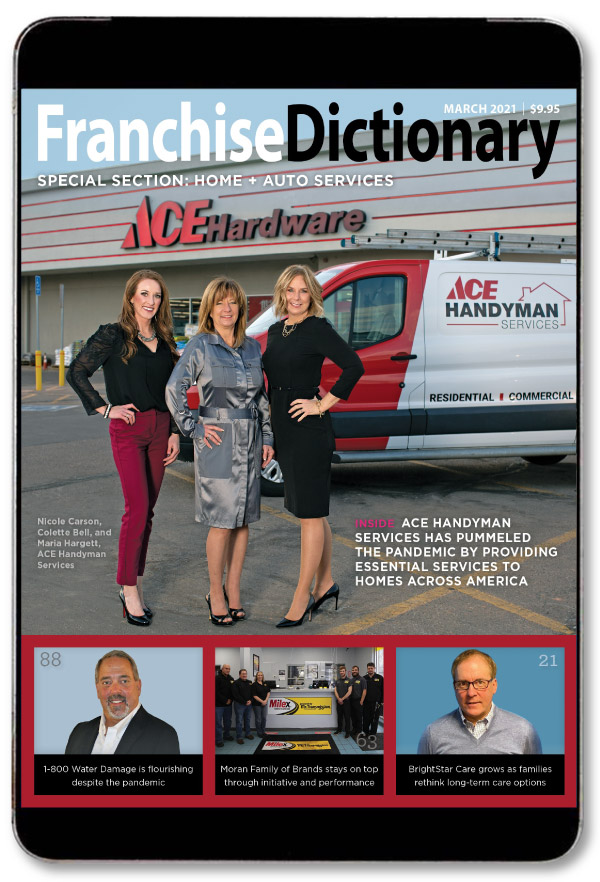 March 2021 Articles
Departments
With more businesses accepting bitcoin as a method of payment, this global cryptocurrency continues to explode in popularity throughout the world. In addition to sports teams and travel sites, some major industries that accept bitcoin as payment include companies that offer cell phone services, home building materials, home and garden decor, groceries, dining, and coffee. By Cindy Charette
Features
When Michael Kontras chose to franchise Bailey Seafood in 2019, his goal was to extend the reach of the family-owned-and-operated business, offering his "choose your own fish and watch it being cooked" model to areas well beyond his Buffalo, New York, headquarters. By Jessica Jones
Daily Jam started 2021 strong, expanding its brunch menu with several new additions, including chicken and waffles specials that have been generating quite a buzz for the fast-casual breakfast chain. By Jessica Jones
Ace Handyman Services franchising offers individuals from all walks and stages of life the opportunity to run a first-rate, essential business while serving local communities. These home improvement and maintenance experts have applied quality craftsmanship and superior service for over two decades and continue to expand even amid a pandemic. By Rose Mango
For over 10 years, Grand Welcome has been a trusted leader in the vacation rental management industry, offering exceptional accommodations, impeccable service, and outstanding experiences. By Lizzy Yeserski
Focused entirely on men's grooming – currently considered hair care's most rapidly growing segment – Roosters Men's Grooming Center is not only dedicated to providing an authentic barbershop experience, the brand is also capitalizing on this industry's massive re-emergence, offering a classic cut to customers and a recession-proof investment to franchisees. By Jessica Jones
As this March marks one year since the COVID-19 pandemic swept the U.S., some franchises have not only survived, but also thrived, despite these troubling times. No one knows this better than Alesia Visconti, president and CEO of FranServe Inc., the world's largest consulting and expansion organization. By Alesia Visconti
Shop Talk
Despite what it may look like, any famous athlete, CEO or actor will tell you there are no overnight successes. In fact, success is built upon every move one makes – or fails to make. Each move either changes your life for the better or the worse. By Alesia Visconti
Seems like a simple enough question. However, I think many franchisors forget they are in two businesses. One is the underlying subject matter expert on the service provided to consumers, such as a restaurant, gym, roofing, etc. But the second, and increasingly more important, as your system grows, is the business of franchising. By Tom Spadea
The Tax Cuts and Jobs Act, implemented under the previous administration, resulted in available tax strategies that we utilized to save our franchise coaches and franchisees thousands of dollars. By John Mollica
Some of the most exciting industries in which to start a business this year involve anything related to home-improvement or auto repair. Regardless of how the recovery goes and how quickly some local businesses open, travel will be limited or still just not an option for many Americans. It is likely that few will be flying off to Paris this summer. By Jack Monson
Every book starts with chapter one. In chapter one the setting is set, the main character is introduced and the plot begins. The excitement from the very first chapter should propel you into chapter two and so forth. By the time you're in chapter 20, for example, you have more characters introduced, multiple settings and a thickened plot. By Don Clayton
Some may think of this question as the proverbial 'chicken or the egg' dilemma. But, the answer is quite simple: one should consider both the franchise and financial options at the same time. By Diane Rosenkrantz
Scott Greenberg helps franchisees improve their leadership skills and grow their business. He's the author of the book The Wealthy Franchisee: Game-Changing Steps to Becoming a Thriving Franchise Superstar. Below are some interview excerpts.
Sign up for the Franchise Dictionary Magazine Newsletter