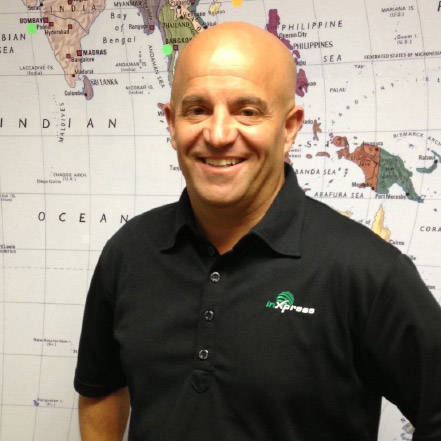 Looking for a recession-resilient opportunity after the 2008 downturn, Tom Morris leaned on his business acumen and relationship-building skills to launch InXpress. This global shipping company provides small-to-medium-sized businesses with shipping rates and solutions that traditionally are accessible to high-volume clients only. By Lizzy Yeserski
Building On Passion and Persistence
Looking for a recession-resilient opportunity after the 2008 downturn, Tom Morris leaned on his business acumen and relationship-building skills to launch InXpress. This global shipping company provides small-to-medium-sized businesses with shipping rates and solutions that traditionally are accessible to high-volume clients only. Morris has run his Utah-based franchise since September 2009.
Success for Morris and his team means guaranteeing 100% customer satisfaction by evaluating needs and identifying the best shipping solutions available. He and his high-energy consultants consider themselves logistics-industry experts. They offer the knowledge and tools to help small businesses reduce costs, optimize operations and become profitable. For Morris, it's all about creating and leveraging relationships.
For over 10 years, Morris has dedicated his time to developing a robust and people-based infrastructure with one-on-one sales training and guidance. Today, Morris focuses on his leadership and expansion goals. He commits 25% of his time to operations and the other 75% to mentoring his team, selling right alongside them. He holds weekly sales meetings to share knowledge and inspire his team to achieve their objectives.
The timeline below shows a typical day in the life of an InXpress franchisee. The business – built on passion and persistence – is simple and straightforward.
8 a.m.-12 p.m. "Sacred selling time" for the sales team begins. That includes making 35-70 new business prospecting calls, both by phone and in person (pre-pandemic, this meant "door knocking" in industrial parks). Generating leads is a Monday through Friday activity.

Meanwhile, the customer service team responds to inquiries about invoices and package tracking. On Monday mornings, the team reviews weekly invoices before sending them to customers.

1-5 p.m. Sales administrators follow up on tasks, such as quotes, proposals, email marketing, and CRM notes.

The InXpress corporate team handles billing, invoice creation and collections.
To learn more about InXpress franchising opportunities, visit inxpressfranchise.com.
– Lizzy Yeserski