Click here for stylized version of Franchise Dictionary Magazine's July/August issue.
Click here for the digital version of July/August articles.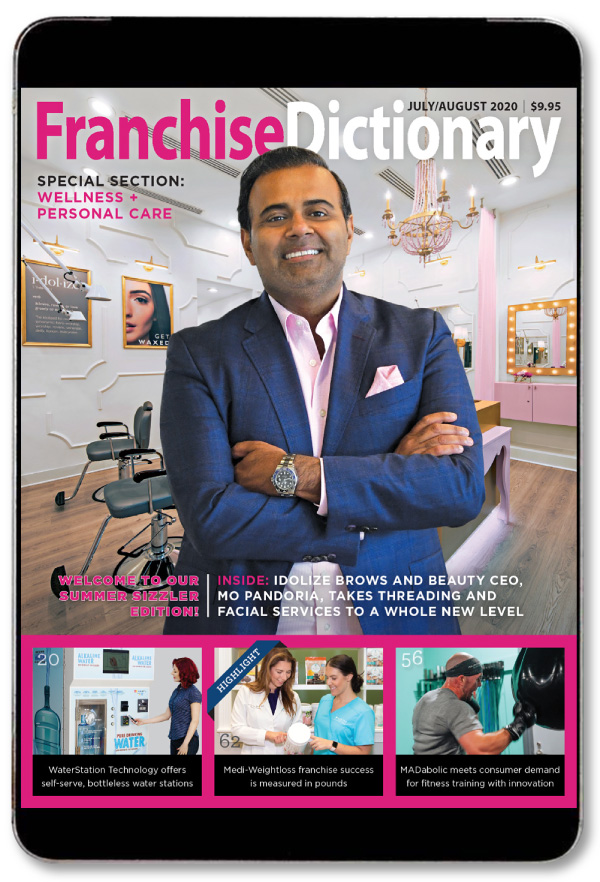 July/August 2020 Articles
Departments
The need for such pure, safe, conveniently dispensed drinking water has never been greater, especially with the onset of the Covid-19 pandemic, which posed challenges for consumers used to getting bottled water or water deliveries at their homes. WaterStation Technology provides an alternative that's not only reliable and convenient, but also a healthier choice. By Jessica Jones
Features
Charles Bonfiglio, president, CEO and founder of Tint World Automotive Styling Centers, shares some important advice on how to use franchise systems and turnkey processes to become a better business leader. By Cindy Charette
Senior Helpers is a leading provider of quality, compassionate, in-home care and assistance for the elderly. With offices throughout the country and around the world, they provide a comprehensive range of services to help facilitate comfortable and independent in-home living. By Nancy E. Williams
The home improvement Industry has been the go-to during the latest shut-in. People have had a great deal of time to look at their homes and begin exploring ways to beautify them. By Rose Mango
The COVID-19 pandemic has posed challenges to business owners in all industries around the world. And while the business landscape continues to change rapidly and dramatically, one thing has remained constant: the need for businesses to communicate with consumers. FASTSIGNS International, Inc. has helped its franchisees in fulfilling the needs of their business clients by providing signs, graphics, digital signs, décor graphics and more. By Jessica Jones
Tina Paine always wanted to open her own business, but life got in the way. Supporting a daughter in college and assisting in caring for an elderly mother who was living with the family required much of her time and resources. By Nancy E. Williams
The timing of Ari Tiktin's BrightStar Care opening was not ideal. Two weeks after New Jersey's governor approved sweeping restrictions in response to Covid-19, Tiktin acquired the franchise serving Passaic County and western Bergen County, New Jersey, just miles from Manhattan. By Jessica Jones
Nominate your favorite women In franchising for our annual WOW: 50 Women of Wonder issue! By Rose Mango
The Glass Guru franchise recently welcomed its newest franchise owners into its network of 75-plus franchise locations in North America. The Glass Guru of Tyler, Texas, also marks the organization's 11th location in that state.
Shop Talk
The average adult makes 35,000 decisions a day. I think the average entrepreneur may make twice that number! OK, 70,000 decisions a day might be a bit of an exaggeration, but it certainly feels like it. That's because every decision entrepreneurs make has a rippling effect that usually impacts personnel, operations, customers, and the entire business. By Alesia Visconti
Ideally, people buy a franchise because they believe in the franchisor and the system, so it stands to reason that they would be eager to follow that system for the benefit of all. Unfortunately, it won't come as shock to most franchisors to hear that it doesn't always transpire exactly as planned. By Tom Spadea
The global personal care and wellness market is on the rise. The Global Wellness Institute values the wellness industry at $4.5 trillion worldwide, with personal care, beauty, and the spa economy accounting for $1.2 trillion. By Sue Bennett
CEOs of most middle- and large-sized companies rely on a leadership team of experienced managers to help them succeed. As a small-business owner, you don't have the luxury of hiring managers to focus on Human Resources, Sales, Marketing, Finance or even Operations. You are in charge of everything associated with your business. By Chris Mangum
Going into business with your spouse or partner can be a lucrative and rewarding experience that strengthens your relationship. If you're in a long-term relationship, you already know that teamwork is of the utmost importance. The need for teamwork is especially important when determining the funding strategy for your new franchise or small business. By Sherri Seiber
Franchise Business Radio is a platform to bring together franchise professionals to connect, educate and collaborate to serve the franchise community and those considering franchise ownership.
Sign up for the Franchise Dictionary Magazine Newsletter