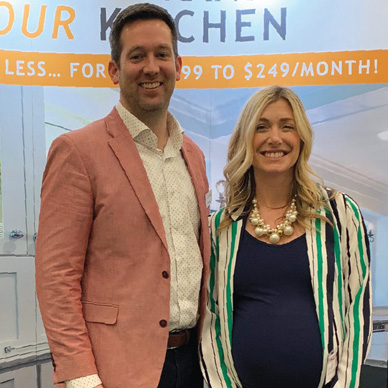 Nick and Tessia Pash were no strangers to home renovations. The Michigan couple had been flipping investment properties for years. They enjoyed the business and design aspects of their projects and decided to turn what then was a sideline into something more. By Nancy E. Williams
Shaping Their Ideal Lifestyle
Nick and Tessia Pash were no strangers to home renovations. The Michigan couple had been flipping investment properties for years. They enjoyed the business and design aspects of their projects and decided to turn what then was a sideline into something more. With a young family to think about, their biggest priority was attaining greater work-life balance, and they knew a franchise would provide the support of a team to help them shape the lifestyle they wanted.
Nick's background was in engineering, while Tessia worked in medical sales. In 2018, Nick suggested they invest in a Kitchen Tune-Up franchise to supplement their incomes and build a business they could potentially sell for a nice profit.
"I'm more of the conservative one," Tessia says. "Nick is more entrepreneurial. We vetted the idea for a while and went back and forth, mostly around whether we should do it part time or jump in with both feet full time. We ultimately decided to go full-time because we knew the chances of being successful rose greatly if we went all in."
The couple didn't consider any businesses other than Kitchen Tune-Up. "I used to work for California Closets and I was able to see the power of the franchise model. We worked with a lot of the same vendors as Kitchen Tune-Up, and they had a great reputation," Nick says.
The Pashes also loved Kitchen Tune-Up's business model. Not only was a franchise affordable, but the flexibility of adding employees when the business reached a certain milestone was attractive. "The business was very scalable, which made it feel less risky," Tessia says.
In December 2018, the couple opened their franchise in Grand Rapids, Michigan. Their passion and dedication, combined with the support from other owners and the home office, contributed to a business performance that exceeded their expectations. "We tempered our expectation for year 1 and hoped there would be more upside – which there was!" Nick says. "If you're diligent about following the system, it works."
As a result, they recently expanded the business and purchased an additional territory in the Lansing area. "Nick is from Lansing, so that was an easy decision," Tessia says. "We were very excited to enter the Lansing market and felt we could easily duplicate the success we had in Grand Rapids."
There's nothing stopping the Pashes from reaching their business goals. Even with the recent pandemic, they have been able to shift their business online with the introduction of Kitchen Tune-Up's virtual consulting appointments. "It was terrifying, but exciting. We were able to adapt quickly," Tessia says.
For people interested in franchising, the Pashes advise choosing a good business model, doing their due diligence and understanding their interests and strengths to pick the right business for them and their families.
To learn more about Kitchen Tune-Up visit kitchentuneup.com.
– Nancy E. Williams