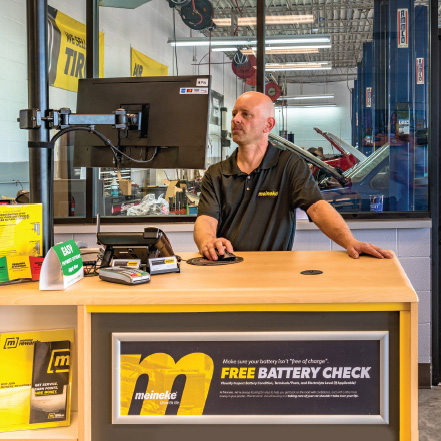 While the world experiences recession, essential franchises, like Meineke Car Care Centers, are undergoing a period of growth. By Jessica Jones
While the world experiences recession, essential franchises, like Meineke Car Care Centers, are undergoing a period of growth.
"Historically, economic downturns tend to balance out real estate and make business pricing more appropriate," says Jeff Todd, vice president of franchise development for the Meineke brand. "We're looking at every opportunity for our franchisees to grow and recognize the importance of being an essential, recession-proof business during this unprecedented time. The next chapter of growth for our business begins with our current owners expanding their footprint."
As part of Driven Brands, one of the nation's largest franchise automotive companies, Meineke began preparing for an increase in personal car use during the Covid-19 quarantine, emphasizing the importance of vehicle maintenance. The company handles everything from oil changes to general auto repair.
With 800 centers nationwide, Meineke is seeking new franchisees with managerial experience and offering current owners discounted franchise fees and other reductions if they launch a second, third or fourth location.
"We are very focused on multi-unit ownership and offer our franchisees a full playbook teaching them how to grow into a multi-unit enterprise," says Devin Hughes, Meineke's director of franchise development.
Utilizing a cloud-based dashboard of services and a management portal to facilitate efficient business operations, Meineke offers extensive proprietary tools to franchise owners, as well as a comprehensive educational process during the opening phase. The company seeks franchisees who are business leaders, regardless of their backgrounds. Automotive experience is not necessary; successful operators have come from a variety of corporate and entrepreneurial environments.
"The transformation from single-unit to multi-unit operator has been smooth and successful for so many of our owners," Todd says. "It's a wonderful way for our brand to grow and a great opportunity for current owners to build their business."
The company also launched a conversion program earlier this year to help interested parties purchase independent car shops and rebrand them as Meineke centers.
"Many small automotive shops around the country have closed," Hughes says. "And while those closures are unfortunate, it does present an opportunity for a recognized brand like Meineke to invest in those properties and launch a successful shop."
For more information about Meineke franchising opportunities, visit meinekefranchise.com.
– Jessica Jones