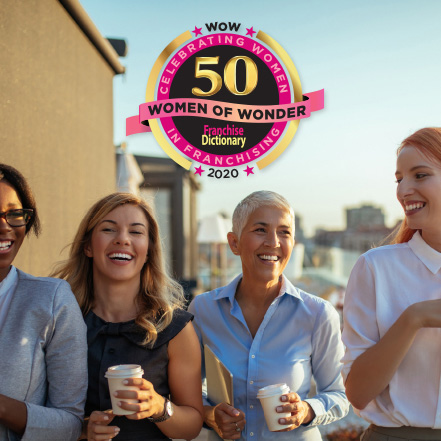 Nominate your favorite women In franchising for our annual WOW: 50 Women of Wonder issue! By Rose Mango
Nominate your favorite women In franchising for our annual WOW: 50 Women of Wonder issue!
We're seeing more women-owned businesses, more female investors, and perhaps even more important – more brands waving their "women-owned and operated" flag. It's become a badge of honor, rather than something to hide, and we want to celebrate these women.
To date, the U.S. has 12.3 million women-owned businesses and is ever-growing. These women-owned businesses contributed $1.8 trillion to the economy just last year alone.
Women in business are a driving force in the nation's flourishing economy, which is increasingly reliant on the work and devotion of female entrepreneurs. Women are starting and running businesses at a stunning rate – and they're doing so with demonstrable skill and expertise.
Women own or co-own about 265,000 franchises, or approximately 35% of all U.S. franchise outlets, up from 24% a decade ago, as recently reported by The Wall Street Journal. Looking at just the past two years, the percentage of franchised businesses opened by women is even higher at 41% and growing!
That is why we are create the annual special section in our October edition called WOW: Women of Wonder. It is a way for us to celebrate and honor 50 women in franchising who are making a difference – those that forge ahead, regardless of the difficulties they encounter.
We celebrate the women that are filling a need in their communities. Women that create opportunities for other women. Women that inspire others to leap into franchising and become entrepreneurs. Women that are working toward changing the playing field of franchising.
We want YOU to vote! Go to our website and fill out a form to nominate a woman in franchising that has inspired you. We will be revealing the winners in our October issue.
Follow this link and cast your nomination today! franchisedictionarymagazine.com/50-women-of-wonder/.
– Rose Mango