Click here for stylized version of Franchise Dictionary Magazine's December issue.
Click here for the digital version of December articles.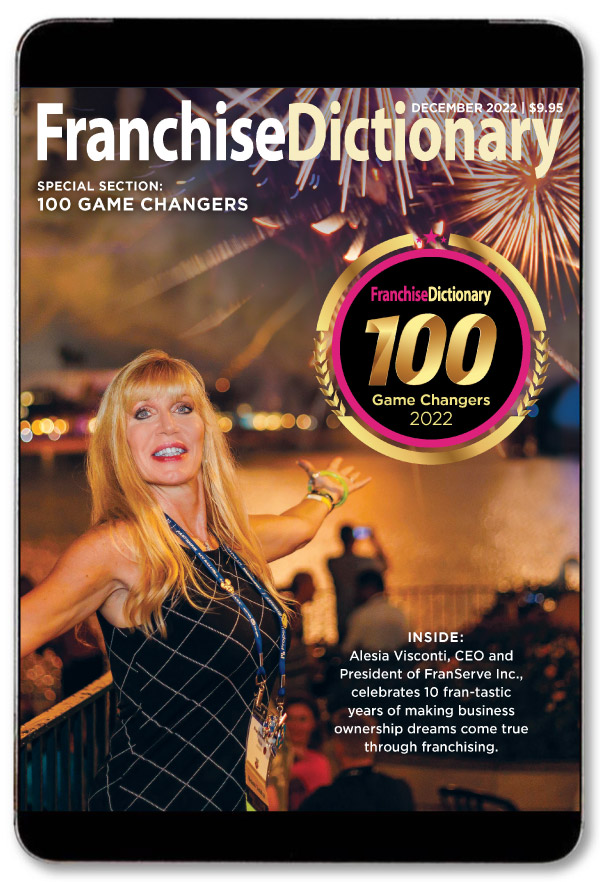 December 2022 Articles
Departments
Many small-business owners dream of someday franchising their business, whether it be a fast-casual restaurant, fitness studio, home service or any of the hundreds of kinds of establishments across the country. By Patty Horansky
Introducing the 100 Game Changers 2022
We were thrilled again this year with the outstanding submissions from our readers and fans as they nominated their favorite 100 Game Changers for 2022. By Rose Mango, Publisher/Chief Editor
Features
Salty Dawg Pet Salon Co-founders John Kanski and Winn Claybaugh are no strangers to providing a client-first salon experience. Both have deep roots in Paul Mitchell School franchising and are veterans of the cosmetology industry. By Kelsi Trinidad
For the past 10 years, Ronny Vann has been a development agent and operations trainer at HomeVestors® of America. He is one of HomeVestors' elite "secret weapons," specializing in preparing the brand's newest franchisees for success in a business that must continually adapt to its changing market. By Heidi Lubrani
Maple Bear Global Schools is widely known as a Canadian education system that offers bilingual educational services to students around the world. Its global reach has expanded to 35 countries and more than 500 schools. By Jennifer Callender
When patrons enter Hawaii Fluid Art, they are immersed in a dazzling art gallery and studio space filled with colorful wall art, handmade goods and the opportunity to create something spectacular. By Elice Morgenson
Celina Rieger Horsley, marketing consultant for Hofbräuhaus of America, recently shared Hofbräuhaus' 400-year history and its importance to the renowned brand. By Cindy Charette
Grand Welcome is a brand built from a genuine love of travel. In 2009, Founder and CEO Brandon Ezra followed his love of the outdoors into an enticing investment opportunity owning a handful of condominiums in the Mammoth Lakes, California, area. He quickly grew that investment to a national short-term rental company. By Kelsi Trinidad
According to Kimberly Johnson-Searcy, director of learning and development for Caring Senior Service, once a franchisee signs the franchise agreement, they can open in as few as 60 days, depending on state licensure. By Cindy Charette
According to Joel Carlsen, national sales director of Bitbox ATM, "Blockchain, which is the underlying technology behind bitcoin and cryptocurrencies, is now the fastest growing adopted technology in the history of the world – faster than mobile phones and faster than the internet." By Cindy Charette
When faced with the stresses of property damage, the last thing you want to worry about is how to locate a qualified person to do the work. Paul Davis Restoration, a leader in property damage restoration in the U.S. and Canada, brings over 50 years of trusted experience in a multi-billion-dollar industry that is in growing demand. By Elice Morgenson
As a home-care franchise company, Assisting Hands Home Care® relies on impeccable customer service and completely personalized in-home care to meet the needs of beloved clients and their families. By Lizzy Yeserski
Since 1996, the Aussie Pet Mobile franchise has offered a convenient, affordable, and reliable full-service grooming experience. Julia Krauss, owner of the Davidson, North Carolina, Aussie Pet Mobile location, was drawn to the brand's many strengths, including the convenient mobile model. By Nancy E. Williams
When it comes to servicing a vehicle, most car owners would be able to attest to the stress that often comes with the process. Whether it's a lack of transparent costs or unreliability in services, auto repairs and window tinting can be a complicated process to navigate without a reasonable level of savvy. By Tamara Rahoumi
While Lubbock, Texas, is known for its hard-working farmers and close-knit community, nestled in this charming town is REGIMEN™, one of the country's most premier luxury salons for men. By Brianna Bohn
As a premier training program in the commercial-lending industry, Global Financial Training Program provides all of the necessary tools, including comprehensive training, for those wanting to be successful financial brokers. By Tamara Rahoumi
More than two decades ago, MindChamps, a leading global early learning education provider, recognized the importance of developing an education system that would prepare children for the demands of a rapidly changing world. By Elice Morgenson
"Our brand is our culture. I've run into a lot of people in my time that have gone to different gyms, and then they come to train with me," explained Vic Lashley, co-founder of Southpaw Gym. By Elice Morgenson
Shop Talk
It's that time again, when most franchisors start to think about updating their Franchise Disclosure Document (FDD) for next year. Around the time this article gets published in early December, if you are a franchisor client of ours, you should be receiving your first "FDD Renewal Reminder" email. By Tom Spadea
They key to franchise success? Happy, profitable, engaged franchisees. When your franchisees are happy and profitable, they're better ambassadors for your brand, and your system will thrive and grow. By Angela Coté
As the new year turns the corner, there is an opportunity for you to take control of what happens. We cannot predict what changes around us, but we can be proactive to make the future look more like the vision we have for ourselves. By Dawn Abbamondi
In the past two years, the world has changed in ways it never has before. COVID-19 changed many perceptions of what work and life balance should be. Many people have realized that they are tired of being a "hamster on a wheel," working for a large corporation or a private company. By Chris Fuller
Tell me about it, and I might be able to guess where you grew up. Your taste in pizza will give you away if you grew up in or around places like Chicago, Detroit, Boston or New York. By Jack Monson
Franchises are expensive. Franchises are just for fast food and retail. Franchise owners aren't really business owners. You can't be creative if you own a franchise. Anyone can buy a franchise if they have the money to invest. By Don Clayton
Tune into Franchise Business Radio to get insight from Steve Cesari, multi-business owner, Inc. Magazine's nominee for Entrepreneur of the Year, author, speaker and founder of the Cesari Companies.
Hi all. We're down to the final five of the Alphabet of Sales. I've had a great time sharing these tips and realize that each letter stands for many good sales tips. Whether you use these sales tips or others, have a great time in sales. That's what it's all about. FUN! By Nancy Friedman
Sign up for the Franchise Dictionary Magazine Newsletter