Click here for stylized version of Franchise Dictionary Magazine's October issue.
Click here for the digital version of October articles.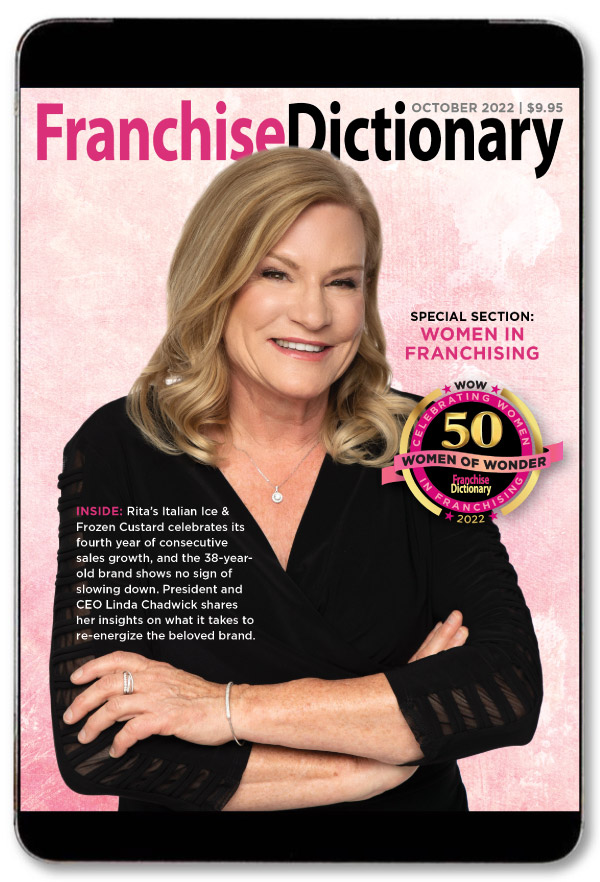 October 2022 Articles
Departments
When asked about the most important lesson he has learned as a new business owner, Sean Richards said that there is something more important than finances: emotional resilience. By Brianna Bohn
Features
When John Smotryski packed up and headed to Key West, Florida, with his wife Amanda Velazquez in 2018, he planned to swap his corporate career for a life of beachside business ownership. By Tamara Rahoumi
One might think Medi-Weightloss is a franchise geared toward medical-industry professionals, but Brooks Edlund, senior vice president of business development, explained how far the franchise's reach actually is. By Heidi Lubrani
Whether you're a property owner with experience managing a personal rental or you're simply a business-minded individual with a knack for strong customer service, Grand Welcome is, quite fittingly, a welcoming franchise opportunity for just about anyone. By Tamara Rahoumi
Clay Haley is no stranger to franchising, but his career did happen accidentally. He began his career as a franchisee with Massage Envy and Face Logic in 2008, and then a friend introduced him to a hair-removal process called sugaring. By Kelsi Trinidad
Tint World franchise founder and CEO Charles Bonfiglio knows a thing or two about what it takes to be a successful franchise location owner. As a prior franchisee who is now a franchisor, Bonfiglio looks for a few character traits in anyone who wants to become a part of the Tint World family. By Tamara Rahoumi
According to Joel Carlsen, national sales director for Bitbox ATM, this fast-growing brand is continually upgrading its internal processes to stay on top of the industry. With the recent release of two state-of-the-art ATMs, investors also will receive upgraded software. By Cindy Charette
When people think of quick-service restaurants, they often envision fried, greasy foods with ingredients that include processed chemicals. Eight Turn Crêpe, however, has revolutionized fast-casual dining with its healthy, unique food options and multiple dining experiences. By Brianna Bohn
MindChamps, a leading global early learning education provider, has been inspiring children to develop valuable learning skills that benefit them for a lifetime. The brand, which operates in six countries and more than 80 locations worldwide, is now ready to open in the U.S. By Elice Morgenson
Whether you're a millennial just striking out, a seasoned entrepreneur or a husband-and-wife team ready to flee the corporate world for work-life balance, a Paul Davis Restoration franchise can bring you untold success. By Lizzy Yeserski
Thirty-one years ago, Jeff Salter, CEO of Caring Senior Service, founded the home care company when he saw an opportunity to provide a service that was hard to find: non-medical care. Since then, the company, which provides in-home care to help seniors avoid relocation, has grown to five corporate offices and 53 franchise units. By Cindy Charette
In October, Franchise Dictionary Magazine highlights the representation of women in the franchise industry. There is a lot to celebrate, as Franchise Business Review reports that women-owned franchise businesses have increased by 38% in the past 10 years. By Nancy E. Williams
September 15 marked the beginning of Hispanic Heritage Month, which celebrates the history, cultures and contributions of American citizens whose ancestors come from Spain, Mexico, the Caribbean and Central and South America. By Rikki Amos
Shop Talk
I might be dating myself by recalling the anti-drug ads from the '80s and trying to relate them to franchising. The relevancy in my mind comes from the fact that restraint and saying no to something that feels good in the near term but will cause long-term pain is much easier said than done. By Tom Spadea
"You need to build a strong team around you" is a phrase you've probably heard frequently in the business world. By Angela Coté
When it comes to applying for a small-business loan, there are endless options, but an unsecured loan typically is the best one for franchisees. An unsecured loan is any loan from a lender that is based only on the applicant's creditworthiness. There is no collateral to back the loan. By Chris Fuller
Starting, helping, taking charge are just some of the words women use to describe how they began their career in franchising. Regardless of the path, they share a common ground; the franchise industry has enabled them to reach their professional goals. By Shelia Fischer
Culture is defined as the customs, attitude and achievements of a particular group. Not every group has a good culture whether it be past or present, and typically one only has to be around a particular group to realize if the culture, fits their lifestyle, whereas other cultures are delightful and one can easily see themselves fitting right in! By Don Clayton
Tune into Franchise Business Radio to learn about this Niche Real Estate Franchise Opportunity.
Continuing the alphabet of sales: Moving on with P–Q–R.
Sign up for the Franchise Dictionary Magazine Newsletter