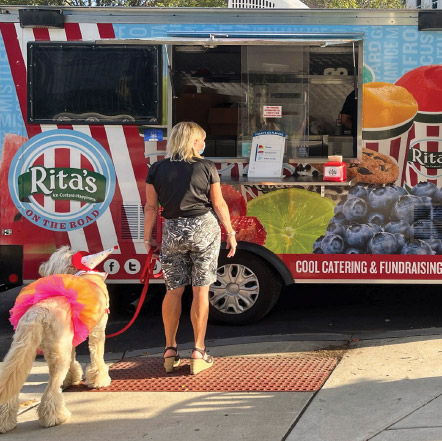 Sometimes, businesses that have been around for a long time enter into a state of complacency, believing that whatever is being done is working and, therefore, shouldn't change. By Brianna Bohn
Sometimes, businesses that have been around for a long time enter into a state of complacency, believing that whatever is being done is working and, therefore, shouldn't change. The brand might even be fearful of losing a sense of its culture or tradition if it were to introduce something new. Rita's Ice, however, has struck a healthy balance by offering its tried-and-true, silky-smooth Italian ices and frozen custards while meeting customers' needs and streamlining franchisees' efforts.
In its fourth year of consecutive sales growth, the 38-year-old brand shows no sign of slowing down. President and CEO Linda Chadwick, who joined Rita's in 2017, has been a major part of that.
"I have a strong operational background, and I quickly realized the enormous potential I had to build a talented team and implement strategic growth initiatives to re-energize a beloved 35-plus-year-old brand. I feel very privileged to lead an organization that was started by a small family, which is what the fabric of America is all about," said Chadwick, who has years of experience in the restaurant industry.
In addition to recently adding a drive-thru option to walk-up locations, Chadwick and her team developed the brand's digital-first strategy and launched a new mobile application for customers. The app's many features – including a digital loyalty rewards program and a location-finding capability, which provides directions, phone numbers, and the day's flavors of local stores – have upgraded the consumer experience and encourage repeat business. The app offers simplicity to customers (no more tracking down lost punch cards) and gathers invaluable information that benefits franchisees.
"I brought the technology internally and hired a team to execute my strategy. In doing this, we have full ownership and control over the technology we use and the data it collects. This strategic move allows us to quickly catch up to larger franchises while spending a fraction of the cost. The success came from my team's ability to provide me key data points and details on what we needed to successfully move into a digital solution that led to true 360-degree guest engagement," Chadwick said.
As a 100% franchised business, Rita's has a corporate team that lives and breathes the franchisee experience. Instead of the high startup costs and low profit margins that plague some restaurant franchises, Rita's has a simple, efficient model that requires a small staff and has low food costs. The corporate team also works closely with franchise owners on new efforts.
"Behind the happiness is a carefully calibrated business model designed to help our franchisees reach new guests, win them over and turn them into longtime fans and brand champions," she said. "Rita's has a cult-like fan base in the markets where we operate, and that's no accident. Between our marketing game plans for franchisees, social media activity and 'gotta try' limited-time-only menu items, we keep guests talking about the brand."
Even with all of the change the brand has experienced, Rita's has stayed true to its roots, offering the feel-good, nostalgic experience for which it's known.
"The recipe for Rita's success is fairly simple: It's the combination of unique and delicious frozen treats, smiling service and a strong commitment to engaging with the community and giving back that has led Rita's to thrive for almost 40 years," Chadwick said.
Rita's has 550 shops in 31 states. It has availability across the country with flexible footprints and a scalable opportunity to help franchisees grow.
Brianna Bohn