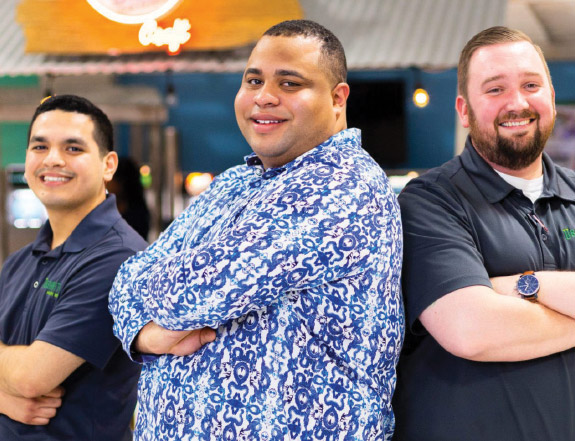 In April, Jacob Chaney opened his Huntsville, Texas, Überrito Fresh Mex, and he loves the response he has received from his community. Guests have been flocking to the colorful eatery, which serves elevated fast-casual Mexican food. By Elice Morgenson
The Strength of a Community
In April, Jacob Chaney opened his Huntsville, Texas, Überrito Fresh Mex, and he loves the response he has received from his community. Guests have been flocking to the colorful eatery, which serves elevated fast-casual Mexican food. Chaney, who started working in the restaurant industry at 16 and has served as a general manager and vice president of operations for major retailers, knew that owning a restaurant franchise would be the perfect fit for him.
"I was looking for a concept, but I wasn't set on which one yet, so I went to go try the food [at Überrito], and I instantly fell in love. I could tell that there was something really special here. The quality of the food in the fast-casual space really impressed me," he said.
With Überrito's stable model and extensive support system in place, Chaney encourages entrepreneurs to take the leap into business ownership. "Don't postpone or be afraid of making the choice. Everybody has dreams and ambitions in the back of their head. There will always be the fear that it won't work out, but you just have to go for it," he said.
Since opening his franchise, Chaney has worked continually to develop relationships within his community. In addition to using marketing strategies to invite customers to try Überrito's hand-rolled steak burritos and house-made salsas and chips, Chaney understands the importance of building up his community by supporting those who are less fortunate. "We have donated to several local charities, like the Sam Houston food pantry and safe house," he said. "We have also spent a lot of time doing some old-school marketing, like going door-to-door, and we developed a relationship with the local Sam Houston school campus and attended events and trade shows."
After just six months of owning his Überrito, Chaney attributes his success to a simple concept. "I have been in the restaurant industry for such a long time, and, outside of the food, this is a people business. You need to make sure that you take the time to hire the right people and take care of them. As a result, they will take care of your guests. If you follow that formula, it is hard to fail," he explained.
Elice Morgenson