Click here for stylized version of Franchise Dictionary Magazine's May issue.
Click here for the digital version of May articles.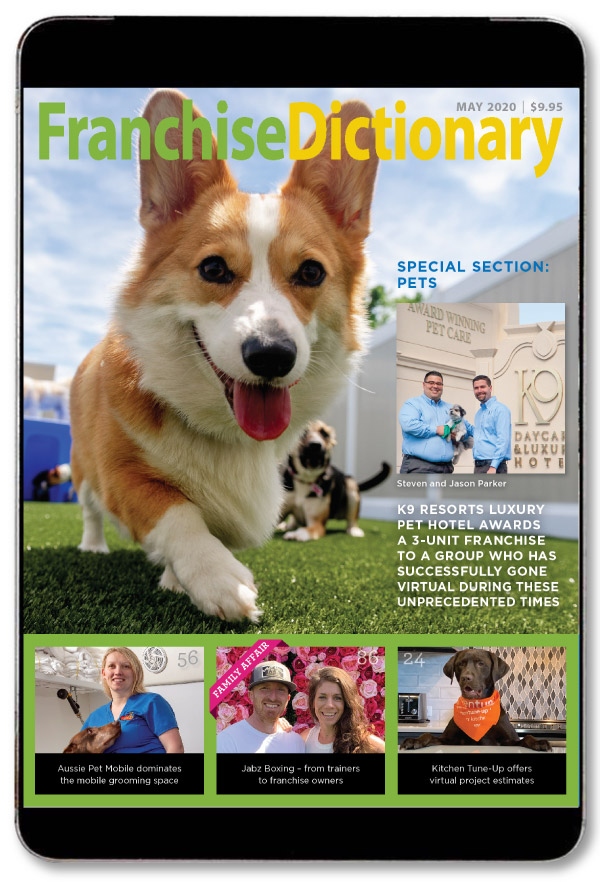 May 2020 Articles
Departments
Being handy was never one of Clay Cain's attributes. "I was the guy that if I had an issue, I called the handyman to come to fix it," said Cain, the owner of a successful roofing business. "I never got on a roof and didn't like the height thing."  By Rochelle Miller
Features
Kitchen Tune-Up is known for its one-to-five-day kitchen updates, but the company's focus isn't solely on esthetics and functionality. Creating a positive renovation experience for homeowners is equally important.  By Nancy Williams
We're living through difficult, if not disturbing, times. Many businesses across the globe are struggling, none more so than those in the restaurant industry. With this backdrop, Daily Jam remains focused on its mission "to be fully committed to our community." By Mike Grecky
Millennials are often described in popular culture as "entitled, unambitious, lazy." But to Alesia Visconti, chief executive officer and president of FranServe, Inc., the world's largest franchise consulting and expansion organization, they are none of those. She sees them instead as an entrepreneurial generation poised to take the business world by storm. By Rochelle Miller
A demand for signage has increased steadily in the U.S. over the past five years. Strong growth in advertisement spending as well as steady investment in nonresidential construction have boosted this demand. By Nancy E. Williams
In 1995, Nelson Lang was operating a small pizzeria in Ontario, Canada, when he identified a local need for healthier dining options. So he teamed up with deli owner John Sotiriadis and hatched the idea for what would eventually become Pita Pit. By Jessica Jones
Shop Talk
A true entrepreneur thinks differently than other people. It isn't the label of being an "entrepreneur" which makes that so but one's mindset.  By Alesia Visconti
A few years ago I visited London with my wife and kids and one of the highlights for me was our visit to Churchill's War Rooms. In this time of uncertainty and stress, it calms me to think about what others have endured and overcome. When things happen that are completely out of our control, all we can control is how we react. By Tom Spadea
Sometimes in life we experience unexpected circumstances. Wait. Always in life we'll experience unexpected circumstances. The question is, how do we respond? By Don Clayton
Pets are BIG business. But you probably already knew that, since the chances are high that you have a pet. According to the 2019-2020 American Pet Products Association's National Pet Owners Survey, 67% (2 out of 3) of U.S. households own a pet. That equates to 84.9 million homes. That's a lot of fur, fins and feathers! By Sue Bennett
As a franchise owner, there are many things to think about when it comes to keeping your business running: from the day-to-day cash flow, payroll and profit, to the protection of your employees and investment.
As a doorway for many people looking to be their own boss, franchise ownership changes lives. FranServe's first annual FRAN-TASTIC 500 recognizes brands going above and beyond the norm in helping people fulfill their dreams of business ownership through franchising. By Rochelle Miller
Franchise Business Radio is a platform to bring together franchise professionals to connect, educate and collaborate to serve the franchise community and those considering franchise ownership.
As we've watched the COVID-19 pandemic unfurl around us for the past several weeks, many of us have been left wondering when, and how, the economy will restart and what the future will look like. And while many businesses are struggling right now, others have embraced the challenges presented, and certain segments are thriving. By Sherri Seiber
Sign up for the Franchise Dictionary Magazine Newsletter