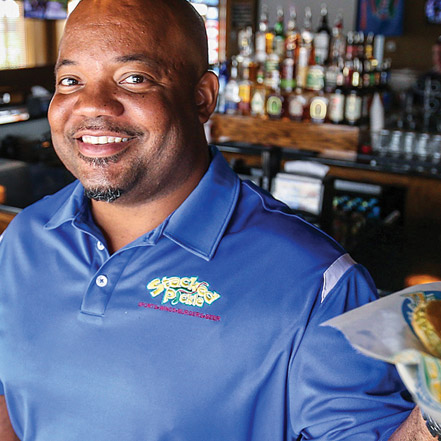 Stacked Pickle CEO Gary Brackett is laser-focused on growing his franchise and bringing the sports bar and grill to as many communities as possible. Even during the recent health crisis, the former Indianapolis Colts linebacker led the Stacked Pickle team in building three new sites in Colorado and in lining up more. By Rose Mango
"Restaurants will be the very thing that instills normalcy when the crisis is over."

Gary Brackett
Stacked Pickle CEO Gary Brackett is laser-focused on growing his franchise and bringing the sports bar and grill to as many communities as possible. Even during the recent health crisis, the former Indianapolis Colts linebacker led the Stacked Pickle team in building three new sites in Colorado and in lining up more.
After retiring from the NFL as a member of the Colts' Super Bowl championship team, Brackett was determined to achieve the same level of success off the gridiron. He obtained an MBA in Entrepreneurship/Entrepreneurial Studies from George Washington University and worked hard to learn all he could about franchising. Initially, he was a silent investor with Stacked Pickle and stayed a silent partner until 2014 when he bought out the founder.
As his first step, Brackett rewrote the Stacked Pickle playbook to guide the brand's growth while keeping entry costs low for prospective franchisees. Brackett's goal from the start was to make franchise ownership achievable and create greater opportunities for others to get into the game. He succeeded in keeping the investment to a third or half (depending on the size) of what the average restaurant franchise would cost, while also achieving a $1.5 million average unit volume, ensuring early profitability for franchisees.
Brackett's proprietary real-estate strategy has been key to Stacked Pickle's success, creating a win-win for franchisees. The strategy involves selecting second-generation locations formerly occupied by other bars or restaurants that closed for reasons unrelated to the sites, but typically less expensive than other locations. Most of his 10 corporate locations were previously home to other bars or restaurants in the Indianapolis area.
Stacked Pickle is growing and growing fast! If you're considering investing in a restaurant franchise and are ready to get off the sidelines, join Stacked Pickle's winning team.
Visit buildthepickle.com or call 317-672-3229 today!
– Rose Mango