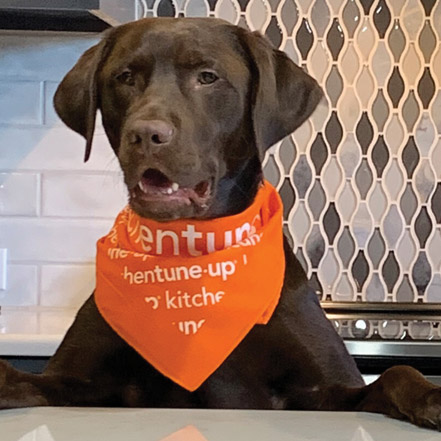 Kitchen Tune-Up is known for its one-to-five-day kitchen updates, but the company's focus isn't solely on esthetics and functionality. Creating a positive renovation experience for homeowners is equally important.  By Nancy Williams
Considering  Clients' Priorities – Including Their Pets
Kitchen Tune-Up is known for its one-to-five-day kitchen updates, but the company's focus isn't solely on esthetics and functionality. Creating a positive renovation experience for homeowners is equally important.
Kitchens are the heart of every home, where families gather for good times and to create great memories.
To ensure the least possible hassle and the best outcome to any kitchen remodel, Kitchen Tune-Up created Trustpoints, which are five commitments that govern every project. Trustpoints include listening carefully, arriving on time, respecting the home, providing solutions, and communicating. By following Trustpoints, franchise owners reassure clients that the daily lives of their families – including the four-legged members – won't be disrupted. And pets' needs are often considered in these dream kitchens, which may include complete cabinet modifications and organizers for varying storage needs such as pet food and supplies.
With an initial investment of $72,000, which includes a franchise fee, protected territory, start-up package, training, and more, you can own a business that has been transforming kitchens – and the lives of families – for 32 years. No design or construction background is needed.
Always continuing to innovate, franchise locations are now offering virtual project estimates in place of some in-person meetings. Plus, franchises have introduced DIY services, ranging from cabinet re-dooring to garage cabinets and cabinet organizers. Through virtual connectivity with people at home, Kitchen Tune-Up franchisees can provide clients the necessary guidance on projects and continue their operations while helping clients update and improve their homes.
Ideal candidates are team players who understand and appreciate how systems work and are comfortable with marketing activities. Single unit, multi-unit, and area developer opportunities are available. Franchises can be operated as home-based businesses requiring minimal overhead, or retail operations, which represent 30 percent of ownership.
To learn more about Kitchen Tune-Up, visit kitchentuneup.com and find franchise information at ktufranchise.com.
– Nancy E. Williams