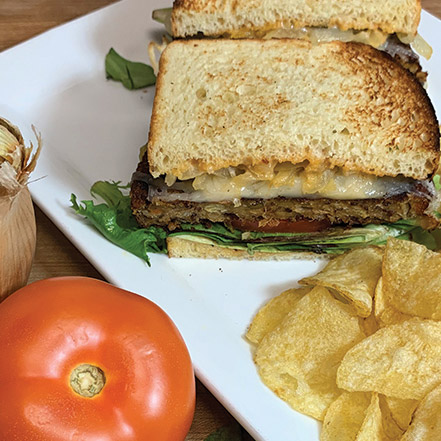 We're living through difficult, if not disturbing, times. Many businesses across the globe are struggling, none more so than those in the restaurant industry. With this backdrop, Daily Jam remains focused on its mission "to be fully committed to our community." By Mike Grecky
We're living through difficult, if not disturbing, times. Many businesses across the globe are struggling, none more so than those in the restaurant industry. With this backdrop, Daily Jam remains focused on its mission "to be fully committed to our community."
Open seven days a week, Daily Jam is a fast-casual restaurant serving breakfast, lunch and brunch in a full-service environment, with an "urban-cool vibe" in an indoor-outdoor atmosphere. With two locations in Arizona, Daily Jam has begun expanding nationally through franchising and is known for serving great tasting, healthy food options that include a variety of menu items. Its gluten-free red-velvet waffles were named the "Best in Arizona" by Food Network.
While many restaurants across the country have closed, others have been able to pivot by offering takeout or delivery services. This change in tactics has presented challenges for many restaurants, as serving customers off-premises was never part of their original plans. But Daily Jam officials understood early on the importance of being able to serve customers both on- and off-premises.
Berekk Blackwell, Daily Jam's president, says he knew delivery service needed to be a key component of the brand's strategy to reach customers who prefer to dine off-premises. The key to Daily Jam's delivery strategy was to design a menu from the beginning that could serve both on- and off-premises customers. Factors that had to be considered, for instance, included packaging so the taste experience would still meet customers' expectations as if they were dining at an actual Daily Jam location. Utilizing the right technology and appropriate disposables, while keeping the carbon footprint low, were also key to the process.
In addition to offering a high-quality delivery experience for its customers, Daily Jam also wanted to remain true to its mission of being fully committed to the communities the restaurants serve and to contribute to the well-being of those residents – which has never been more critical than during the coronavirus crisis. In pursuit of this commitment, Daily Jam has extended its hours from its typical 3 p.m. closing time to 9 p.m. Restaurants also are offering free coffee and 35 percent off the price of all orders for medical personnel and first responders, to show appreciation for their service. And all customers can order online and receive 25 percent discounts.
Additional promotions include "kids eat free" and buy-one-get-one gift cards. Daily Jam also offers free, contactless delivery for other businesses. Through these reduced-price offerings, Daily Jam continues to bring its great-tasting food to many of its loyal customers and other businesses that have been impacted financially by the economic downturn.
Blackwell and Daily Jam officials understand the current economic crisis is temporary and they are committed to the brand's expansion plans, having recently signed a new 10-location franchisee in Michigan. "Staying focused and committed to our customers and community is the key to our long-term success," Blackwell says.
To learn more about how you can start a franchise with Daily Jam, visit dailyjamfranchising.com or call 480-569-1010.
– Mike Grecky