Click here for stylized version of Franchise Dictionary Magazine's June issue.
Click here for the digital version of June articles.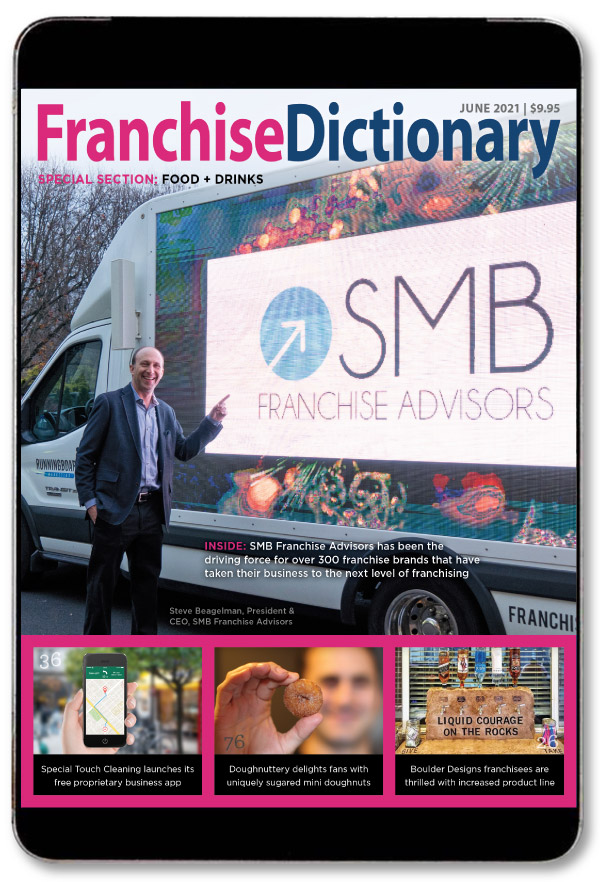 June 2021 Articles
Departments
For Magi Kapllani, a professional pianist who has performed in a number of renowned venues throughout the U.S., music has always been a major part of life. By Jessica Jones
Features
The Boulder Designs franchise produces unbelievable boulders with custom engraving and illumination that is second to none. It is the industry leader in customized stone production, and it's the customers' rave reviews that prove it. By Lizzy Yeserski
Networking remains the most effective and substantial method of business development and marketing. For many of us, the success of our career depends on our ability to create an exceptional group of professional relationships. Network In Action (NIA) takes the concept of networking and creates a modern version that fits fast-paced lifestyles and strengthens the community it touches. By Elice Morgenson
Special Touch Cleaning, founded in 1998 in Richmond, Virginia, offers a proven business model along with today's advanced technology. By Cindy Charette
SMB Franchise Advisors has been the driving force for over 300 brands!  They've created successful franchise businesses with those who've wanted to take their business to the next level of franchising. By Rose Mango
Anyone who has made a real-estate transaction knows that the process can be complicated and take a great deal of education to navigate the system. A seller who requires the prompt sale of a house or has hurdles, such as extensive home repairs, may find themselves in a problematic situation. With its years of extensive experience, HomeVestors® helps sellers find solutions to many real-estate dilemmas. By Elice Morgenson
When Rob Lancit, a tech-savvy franchise expert with deep roots in consulting, joined FranServe, Inc. as executive vice president last month, his motivation for joining the world-renowned company was clear. By Jessica Jones
Shop Talk
There are a lot of people who love the idea of owning a home-improvement business but don't love the idea of doing the work themselves. Luckily, there's a franchise business model that's suited perfectly: the Executive Model. By Alesia Visconti
Four powerhouse accountants and CPAs on staff revolutionize the funding process with First Financial. The extensive financial knowledge base of these individuals enhances the speed and overall quality of our service. This is an benefit you will not find in most SBA consulting firms. By Dan Pace
As we wrap up another busy FDD renewal season, I am struck how often the "total investment" tension of Item 7 in the FDD is discussed and in my opinion misunderstood and miscalculated. By Tom Spadea
If anything good came out the pandemic, it's the realization that life is fleeting and we have to make the most of our opportunities when we have them. Being an "opportunity-grabber" is definitely a common trait among entrepreneurs. By Symara Rog
A few issues ago I discussed searching for The Official Music Genre of Franchising (it's Jazz!). I thought now we should perhaps examine movies. What is the Ultimate Movie for Franchising? By Jack Monson
How do you measure success? Do you measure success by your monetary earnings? Do you measure success by your familial accomplishments? Do you measure success by your work-related goals? You can measure success in many different ways but the best way is summed up in one simple question: "Are you happy?" By Don Clayton
Franchise Business Radio: Ron Davison, managing partner of AllCap Funding.com was on a recent episode of the Franchise Business Radio. Tune in and learn about unsecured funding, which does not rely on collateral to secure a loan. Below are some interview excerpts.
Sign up for the Franchise Dictionary Magazine Newsletter