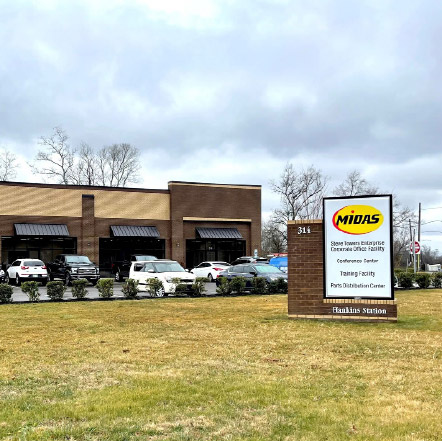 When Steven Towers was still in high school, he started working part time for a local Tires Plus in his Florida hometown, changing oil and plugging tires for the Firestone/Bridgestone brand. By Jessica Jones
20 Units on the East Coast and Opening a New Location Soon
When Steven Towers was still in high school, he started working part time for a local Tires Plus in his Florida hometown, changing oil and plugging tires for the Firestone/Bridgestone brand. He worked his way up to the sales counter by the time he was 18 and graduated to service manager right around the time he finished school.
"I enjoyed learning the business side of things," Towers said, detailing his ascension up the company ladder. Appointed general manager at a Bridgestone property in the Jacksonville area at the age of 19, Towers turned the store's sales around in a little less than 12 months.
"I ran a store in Tallahassee after that and then returned to Jacksonville to run a higher volume location," Towers continued. "I loved the company and enjoyed my job, but I knew I wanted to own my own shop, so I started seeking out opportunities with Midas."
Founded in 1956, Midas had a ubiquitous influence on the country's muffler sales during its early years, including a national warranty on every part sold "for as long as you own your car." The company has since evolved to become total car-care experts, offering a wide variety of maintenance and repair services to support customers in maintaining their vehicles for as long as possible. The brand encompasses over 2,100 locations worldwide.
"I thought the brand would be a good fit for me," Towers said. "I wanted to be a business owner, and all of the Bridgestone/Firestone stores were corporately run. So in 2013, I found a financial backer through the Midas network, and we opened a store together in Alabama. He supplied the money, and I supplied the expertise. Our alliance quickly grew into seven locations."
Each store that the business partners acquired was struggling prior to their purchase, but Towers used his experience and automotive expertise to salvage each site.
"There really is no secret to our success," Towers said. "We hire great people, make sure the facilities are up to date both inside and out, and make sure every one of our stores is uniform."
The process clearly works. Towers, who has since ventured on without his financial partner, owns 20 Midas centers predominantly in the Southeast, including nine in Nashville, three in Memphis, five in Alabama, one in Florida and two in Boston.
For a 31-year-old entrepreneur, it's an impressive roster. "I have over 100 associates, truly wonderful employees, who have joined my team over the years," Towers said. "We hire good people and promote from within, plain and simple."
Owned by parent company TBC Corporation, which purchased the franchise system in 2012, all Midas centers also maintain a strong focus on product.
"You can't sell items without having them on the shelf," Towers said. "So we always stock at least 400 to 500 tires, plus plenty of brake pads, rotors, and oil filters too. To reduce customer wait time, I always have a full line of oil, wiper blades, and other essentials on hand. We research what products typically sell most in a particular Zip code and keep a stock of those parts in the store."
Towers is now bringing that successful philosophy to another store in Nashville; his 21st location should be up and running in the next few months.
"This is the first store we're building from the ground up, not a takeover of an existing location,"
he said. "It's an eight-bay location, over 8,000 square feet. It will be our flagship store in that area, and I'm very excited about it."
For Towers, the new location is the ultimate culmination of all of his hard work and dedication to the brand.
"It's been an awesome ride," he concluded. "This is all I ever really wanted to do, and Midas has made it possible. They are a great brand, and TBC, which owns Midas, has been phenomenal to work with. I'm so glad that I joined this franchise."
For more information about franchise opportunities with Midas, visit midasfranchise.com.
– Jessica Jones