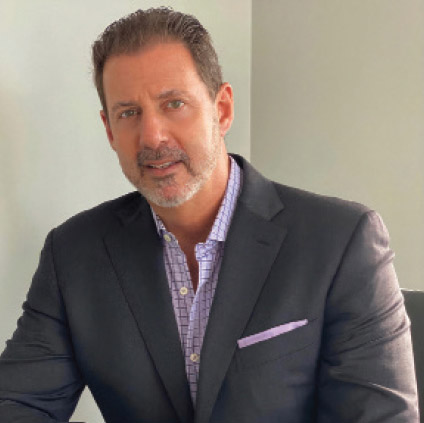 When Rob Lancit, a tech-savvy franchise expert with deep roots in consulting, joined FranServe, Inc. as executive vice president last month, his motivation for joining the world-renowned company was clear. By Jessica Jones
When Rob Lancit, a tech-savvy franchise expert with deep roots in consulting, joined FranServe, Inc. as executive vice president last month, his motivation for joining the world-renowned company was clear.
"The first thing that attracted me to FranServe was the integrity and family culture of this organization," noted Lancit, who was born and raised in Montreal and spent 20 years in Vancouver before making New Jersey his home. "I also intensely respect the vision of this brand, which is two-fold: FranServe helps franchisees get into business for themselves while helping franchisors expand. To play an integral role in helping someone achieve their dream of business ownership while assisting the growth of a variety of different companies all in the same breath is extremely motivating. In the simplest of terms, joining the FranServe team in this capacity just felt right."
Defining CEO Alesia Visconti's mission of connecting people to franchise ownership as inspiring, Lancit said he is thrilled to join the world's largest franchise consulting and expansion organization.
"Alesia has the consultants' best interests at heart," Lancit said. "I've worked in this industry for a long time, and I am blown away by the corporate culture at FranServe, which is not corporate at all. Alesia treats every member of her team like family, and for that, I have tremendous respect."
Lancit, who cut his teeth in franchising 26 years ago while participating in U.S. trade missions to Italy, Singapore, Australia, New Zealand and beyond, launched his own franchise development firm in 2000. He founded one of Canada's most respected franchise directories in 2001, and lists understanding today's technological challenges and bridging the gap between business development and technology among his strengths.
"I intend to help Alesia grow FranServe in that capacity," Lancit said, discussing the introduction of more technology, which would streamline FranServe consultants' workload and assist in time management. "Technology changes at the speed of light today – enough to make your head spin. In this role, I will stay on top of every new customer-relationship management innovation and introduce our consultants to the best technological advances. If we approach it from a forward-thinking standpoint, we will stay miles ahead of the competition."
Lancit also hopes to build upon FranServe's already healthy franchisor network.
"FranServe has an incredible network already, but my goal is to expand it even further," he concluded. "By identifying to other brands how much FranServe is leading the way in the industry and how the organization has assisted in the growth of some of the world's biggest franchises, I think we can easily take it to the next level."
For more information on becoming a franchise consultant with FranServe, Inc., visit teamfranserve.com or email connect@franserve.com.
– Jessica Jones
Who Is FranServe?
FranServe is the largest organization of franchise consultants in the world with more than 500 active consultants in North and South America, representing over 550 of today's hottest franchises. We are viewed as one of the most professional and prestigious groups in our industry by our franchise and lending partners.
Why Join FranServe:
Unparalleled Commitment
Our business model is simple; your success is our success. We only win when you win. No other organization is as committed to helping our consultants achieve their goals as FranServe.
Unlimited Training
We never stop training our consultants. FranServe offers continually and unlimited access to both live and on-demand training courses taught by industry experts in every field. You learn and are guided by the best of the best.
CFC Designation Certification
FranServe affiliates have the option to become a Certified Franchise Consultant and earn their CFC designation, showing their clients and franchisors their professional commitment to the industry.
What FranServe Consultants Say:
FranServe is a great partner in my franchise consulting business. From the multi-phase training to the mentor and other support programs, my FranServe support team is with me every step of the way. I have learned so much and have been able to develop great relationships with many franchisors. Most importantly, I have been able to help many individuals and teams find the right business that can help them achieve their dreams!
Chris Brooks, CFC
FranServe is an excellent investment opportunity. For those that have a strong desire to help others and themselves become their own boss with a wide diversity of proven and emerging franchise brands – this is your model. The entire team will provide you with the support, training, and infrastructure you need to be a high-performing franchise consultant.
Jack and Jill Johnson, CFC
Joining FranServe and becoming a professional franchise consultant through their training and mentorship program is the best career move I ever made. Like many, I wanted to be my own boss and leave Corporate America. I am living my dream. To me that means more time with my family, enjoying freedom and flexibility and being accountable only to my own high goals and standards. My income is excellent and a direct reflection of my efforts and I can rest easy knowing that my job can never be abruptly eliminated.
Jason Blough, CFC