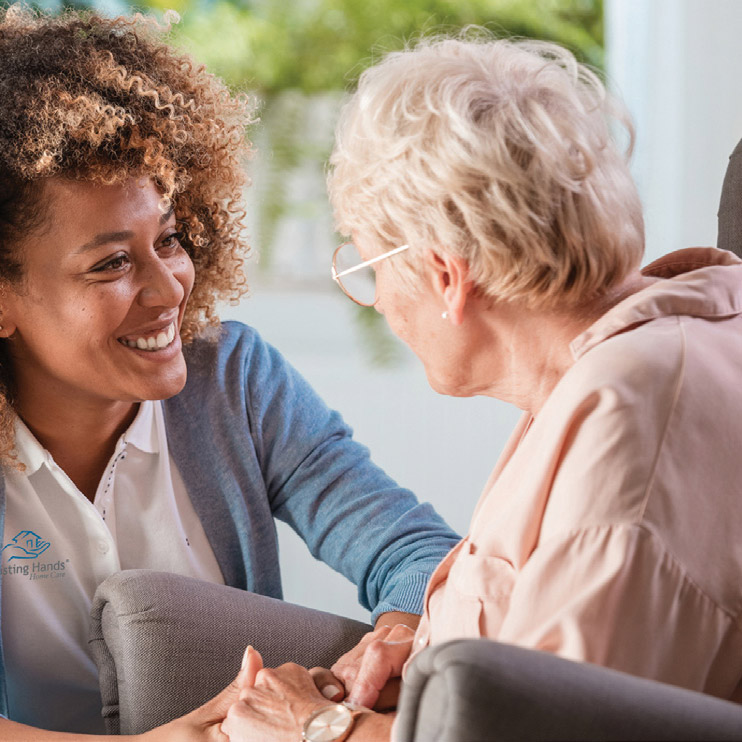 Angela Flintz, a registered nurse and certified dementia practitioner, owns two Assisting Hands® Home Care locations in Elgin and Barrington, Illinois, and recently became an area representative for Nashville, Tennessee. An RN for 21 years, Flintz has an extensive background in critical care and community health. By Nancy E. Williams
Selecting a Second Family
Angela Flintz, a registered nurse and certified dementia practitioner, owns two Assisting Hands® Home Care locations in Elgin and Barrington, Illinois, and recently became an area representative for Nashville, Tennessee. An RN for 21 years, Flintz has an extensive background in critical care and community health.
"I was doing home health care on the side and really enjoyed it,'' she said. "Then I had two children and knew I wanted to continue doing something that allowed me the flexibility to stay home with my kids." Her husband, Derek, suggested she start her own business rather than work for someone else. "That's when we started exploring various options,'' Flintz said. "I knew I wanted to go with a franchise, because to try and start on your own is tough. The insurance alone is very difficult. Franchises are enticing because you have the structure and support in place, as well as a national team."
In selecting Assisting Hands Home Care, Flintz said she "had the inside scoop." As a nurse, she had worked with a number of in-home care providers and knew right away which ones she did not want to own. "After meeting with the national team at Assisting Hands, they felt like family,'' she said. "It didn't feel like we were being sold to, and the company shared a lot of the same morals and values we had." In 2014, the Flintzes purchased their first location and opened their second four years later.