Click here for stylized version of Franchise Dictionary Magazine's August issue.
Click here for the digital version of August articles.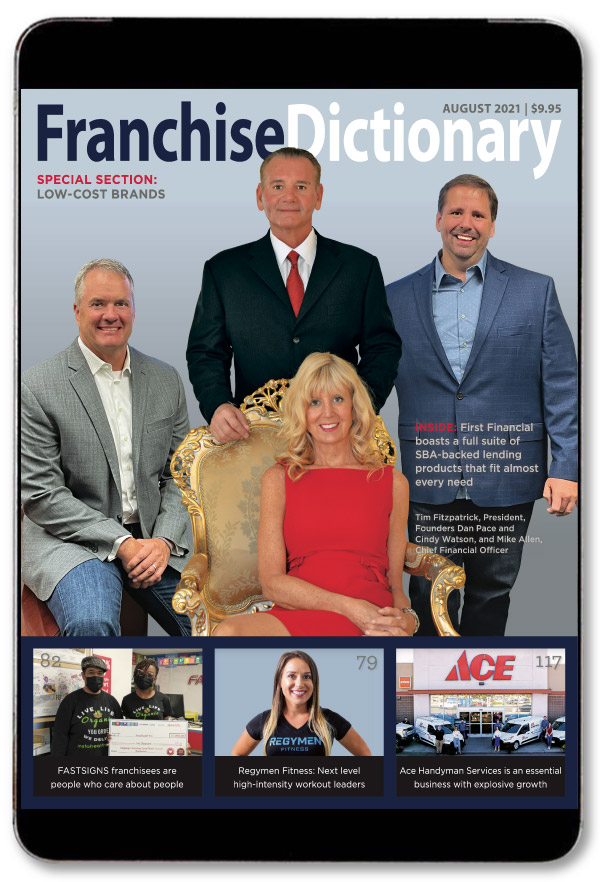 August 2021 Articles
Departments
Calvin McNeely, CEO and co-owner of the Runningboards Marketing franchise, has owned over 30 companies, mainly in the government contracting space related to airports. In 2016, he decided to retire from that field in hopes of starting a business that made a difference in people's lives. By Nancy E. Williams
Features
Maria Corina Salama and her husband, Salomon Del Valle, left their restaurant businesses in Venezuela to fulfill their dream of coming to America. When they arrived, they agreed they would never be in the food industry again. By Cindy Charette
In 2019, Ace Hardware acquired Handyman Matters, to create Ace Handyman Services. This service connects the consumer with multi-skilled craftsmen, who are experienced, reliable, efficient, and provide superior service at reasonable rates. By Elice Morgenson
Entrepreneurs with a vision for changing their community will find a perfect fit as a Network in Action (NIA) group leader. Scott Talley, the founder of NIA, stated: "Everything we do is built around adding value for our members, as opposed to just putting on a show for the guests." By Elice Morgenson
1-800 WATER DAMAGE has shown incredible growth in the past 18 months, with 100 new locations delivering exceptional service to clients across the country. These restoration experts treat water, mold, and fire damage, and they have the support of an industry giant. By Brianna Bohn
Mandy Oakes, director of client experiences for Manduu America, isn't just promoting the revolutionary physical impact of electrical muscle stimulation (EMS) workouts. She is witnessing firsthand the inspirational stories coming through Manduu studio doors nationwide. By Heidi Lubrani
911 Restoration is a low-cost investment for entrepreneurs who want to offer high-quality property restoration services to residential and commercial clients nationwide. By Brianna Bohn
Regymen Fitness takes HIIT, high-intensity interval training, to the next level by combining an extensive variety of techniques with a fitness plan that challenges members at every stage. By Elice Morgenson
Invest in your future and build your own legacy in 10 easy steps, with the proven Tint World® system and complete turnkey auto-styling franchise opportunity. By Cindy Charette
If you're looking to invest in a franchise, the opportunities are endless: food service, home repair, automotive, fitness, and even education, are just a few of the myriad of choices that potential business owners face when entering this multifaceted market. By Jessica Jones
My Eyelab has remained at the forefront of the optical industry by providing patients with state-of-the-art eye care that is reliable, affordable, and fabulously easy. A proprietary telehealth platform allows stores to take walk-in eye exam customers in addition to customers who have previously made appointments. By Elice Morgenson
An in-home care agency that specializes in providing services to the elderly and other adults who require assistance in meeting their health-care needs, 1Heart Caregiver Services, which franchised in 2015, offers low startup costs, several available prime territories, hands-on coaching, and extensive training. By Jessica Jones
If you're scouting an investment opportunity, there are lots of variables to consider: Are you entering a growing market? Is there continuous opportunity in this industry? And maybe most importantly, will your initial funding offer a decent return? By Jessica Jones
Shop Talk
If you make $100 in profit, that $100 on the open market is worth the multiple of the earnings in the business it is generated. If you pay that $100 in royalties to the franchisor, that $100 becomes an expense to your operating unit and profit to the franchisor. By Tom Spadea
At Tenet Financial Group, we stress this statement in every conversation we have with prospective franchisees: "Franchise funding is not one-size-fits-all." By Jodi Rowell
I recently had the pleasure of hosting another Marketing Workshop with the International Franchise Association. Thanks to my co-emcee Kristen Pechacek of MassageLuxe, and to Sherri Fishman of Fishman PR and her Marketing & Innovation Committee, for putting these workshops together. By Jack Monson
"I want to buy a franchise! I'm putting up the money! I'm in the driver's seat! I'm in charge," says Mr. Franchise Candidate. Makes sense – or does it? By Don Clayton
Franchise Business Radio: Dan Pace has over 30 years in the lending industry. He has a true passion for entrepreneurship and helping others achieve their dreams of business ownership. In this interview, Dan provides insight and understanding of SBA loans.
Sign up for the Franchise Dictionary Magazine Newsletter