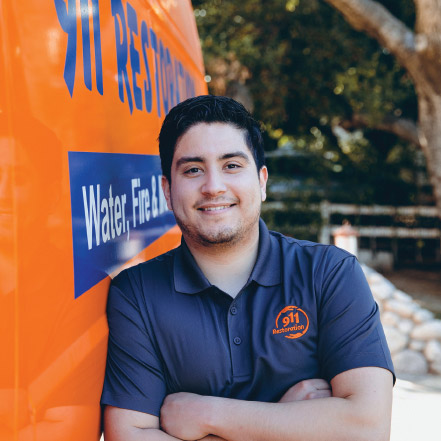 911 Restoration is a low-cost investment for entrepreneurs who want to offer high-quality property restoration services to residential and commercial clients nationwide. By Brianna Bohn
911 Restoration is a low-cost investment for entrepreneurs who want to offer high-quality property restoration services to residential and commercial clients nationwide. The nationally-trusted company is listed among the fastest-growing franchises worldwide, Number 2 in restoration, and Number 5 in franchises for under $100,000, according to Entrepreneur magazine.
These accolades come as no surprise, however. 911 Restoration is heavily rooted in customer service and satisfaction and has been helping people with everything from water and fire damage to sewage cleanup and sanitization services for over 10 years.
The secret to the brand's success? Idan Shpizear, founder and CEO of 911 Restoration, understands that the restoration business does not only fix physical damage; it provides support and compassion after a devastating experience. "We understand your losses – not just in terms of what's physically destroyed, but also the loss of time, investment, memories, etc. And because we see that, we work especially hard to offer the kind of hope you need," Shpizear explained.
In just 45 minutes or less, 911 Restoration will show up to the emergency and provide a free inspection and estimate. From there, the company will help with the insurance claim, and its licensed and certified technicians will use professional-grade equipment to offer peace of mind and a fresh start.
That "fresh start" attitude sets the company apart from others and has led to its great success. "We believe that building a strong company depends on our ability to create a fresh start for others first. Every day, for every member of our team, the question is always, 'What do I need to do to help this other person succeed?' The other person may be a client, a coworker, or a franchisee," said Shpizear.
With this philosophy pumping blood through the heart of 911 Restoration, it comes as no surprise that the brand is committed to franchisee success. By operating on a partnership model with no monthly fees except royalties, 911 Restoration offers an affordable option to franchisees and provides support in training and beyond. Shpizear explained: "We provide a ton of franchise support for free, including local business development, and marketing services – we have a multimillion-dollar marketing platform and an expert team, 24-hour dispatch and customer service, training, and longterm mentorship."
This full-scale operation can be started with an initial franchise fee of $49,000, an initial equipment and vehicle cost of $51,500 and a fee ranging from $5,000 to $13,500 for training, certifications and technology. And, unlike other franchises, 911 Restoration territories are exclusive, and a physical location is not required right away.
All of these factors help new franchisees get a top-ranked business up and running within three months of signing up, and 911 Restoration attracts only the best of the best. Shpizear said: "Tradespeople who are true experts in the home-services industry may not always have the savings to take on a high-cost franchise. By keeping the investment low, we're able to attract the people who really understand the work and, most importantly, really understand the practical and emotional needs of the customer."
"In short, we're able to make franchise ownership as affordable and supportive as possible for our franchisees, because we know the system works. If we make it easy for them to succeed, we're all going to thrive together," said Shpizear.
For more information regarding franchise opportunities with 911 Restoration, visit 911restorationfranchise.com/request-info.
– Brianna Bohn