Click here for stylized version of Franchise Dictionary Magazine's July issue.
Click here for the digital version of July articles.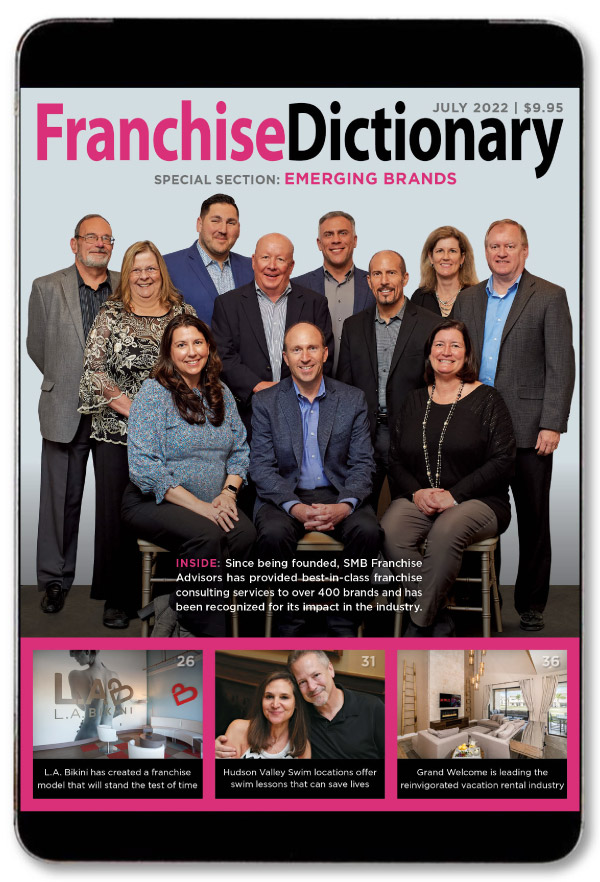 July 2022 Articles
Departments
Looking back, Ace Handyman Services has experienced impressive growth, from 119 territories in 2019 to 311 territories today. This also has led to increased hiring at the corporate office during the pandemic. Even with its significant growth, Ace Handyman Services has not jeopardized its culture of giving. By Jennifer Callender
Features
Over the last several years, Naturals2Go has assembled a group of the industry's top innovators to guide the company's owner-operators and offer valuable support and guidance. The addition of Paul Ihn, who was recently named vice president of product strategy and operations, proves that the company's mission to attract the vending industry's brightest minds and entrepreneurs is working. By  Jessica Petrucelli
When Deanna and Jackson Loychuk founded 30 Minute Hit in 2004, they saw the need for a kickboxing gym for women. "Jackson owned a competitive world-class kickboxing and martial arts gym," said Stacey Firth, vice president of franchise development. By  Elice Morgenson
Since founding L.A. Bikini in 2012 and franchising the concept in 2014, Clay Haley has grown the hair removal and sugaring studio exponentially. Originally established in Birmingham, Alabama, the business quickly spread to 12 franchised locations in seven states within its first few years of operation and even maintained growth during COVID – a fact in which Haley takes great pride. By  Jessica Petrucelli
The Hudson Valley Swim concept started in the backyard pool of founders Jeff and Joan Gartner while their children were receiving private swim lessons. Jeff noticed the care and attention the instructor was giving his children and knew there was a business to be had there. By  Kelsi Trinidad
There's no denying that the short- and long-term rental industries took a hit in 2020 after the start of the pandemic. But in the years since, the numbers have shifted, as emerging trends like remote work have created an environment of increased mobility and location flexibility. By  Tamara Rahoumi
In 2015, Gino Villamor traveled from the Philippines to Los Angeles to visit his brother-in-law. While he had never owned a business, Villamor was captivated by the success his brother-in-law had been experiencing shortly after opening his 1Heart Caregiver Services franchise. By  Brianna Bohn
After pausing in-person events for two years, Signworld was finally able to have a successful convention in Louisville, Kentucky, this spring. Over 60 new Signworld owners have joined Signworld since the last in-person convention, and they were in attendance alongside 112 veteran owners.  By  Nancy E. Williams
Schooley Mitchell, the largest independent cost-reduction consulting firm in North America, is a well-respected and innovative franchise opportunity. The brand offers a comprehensive training program, state-of-the-art support systems, software tools and databases, a multimillion-dollar intranet environment, an innovative client protection system and something many franchisors don't offer: a successful exit strategy. By  Cindy Charette
One of the many benefits that FranServe, Inc. offers to franchisors, funding partners and franchise consultants is its annual convention and franchise exposition, filled with opportunities for sharing, learning fun and surprises. After hosting the last two years on a virtual platform, FranServe, Inc., the largest franchise consulting and expansion organization in the world, is excited to be returning to an in-person event. By  Cindy Charette
No matter where in the world you travel, chances are you can find a unique culinary experience on the streets of any city. From arepas in Venezuela to bánh mì in Vietnam, street food is the great unifier – even if what's on the menu is different everywhere you go. By  Tamara Rahoumi
Shop Talk
Many of our early-stage emerging franchisor clients have been getting calls from private equity groups looking to make an investment. The reaction ranges from skeptical: "What would private equity want with me?" to irrational exuberance. A middle approach is warranted. The key is to understand the rationale of the caller. By  Tom Spadea
You have decided to step into the world of entrepreneurship and become a franchise owner. You will soon be faced with what can seem like an overwhelming number of choices – everything from how to market your business to where to find employees. By  Dan Pace
In order to grow, franchisors look for entrepreneurs who fit the brand to become franchisees. This is a constant part of franchise development. Perhaps the leads come to them through online inquiries, or they seek them out through lead-generating strategies that include franchise expos. By  Sheila Fischer
"BELIEVE … Such a great word. It's often used in sports for fans as their team chases a championship, but it applies to life as well. You have to believe in yourself to achieve the goals you've set. There will always be challenges along the way, but you have to believe in yourself." By  Don Clayton
I've spent the last month listening to a lot of Tom Petty and the Heartbreakers albums. And, as the joke goes, so have my neighbors! During this binge, it hit me that Petty was one of the greatest American storytellers. The reason is that he wrote songs not about himself, but about you, the listener. By  Jack Monson
Franchise Business Radio: Tune into Franchise Business Radio to listen and learn from Franchise Attorney, Tom Branch. Below are some interview excerpts.
These easy, fun ways to share tips, ideas, skills and techniques will help you. By Nancy Friedman
Sign up for the Franchise Dictionary Magazine Newsletter