Click here for stylized version of Franchise Dictionary Magazine's December issue.
Click here for the digital version of December articles.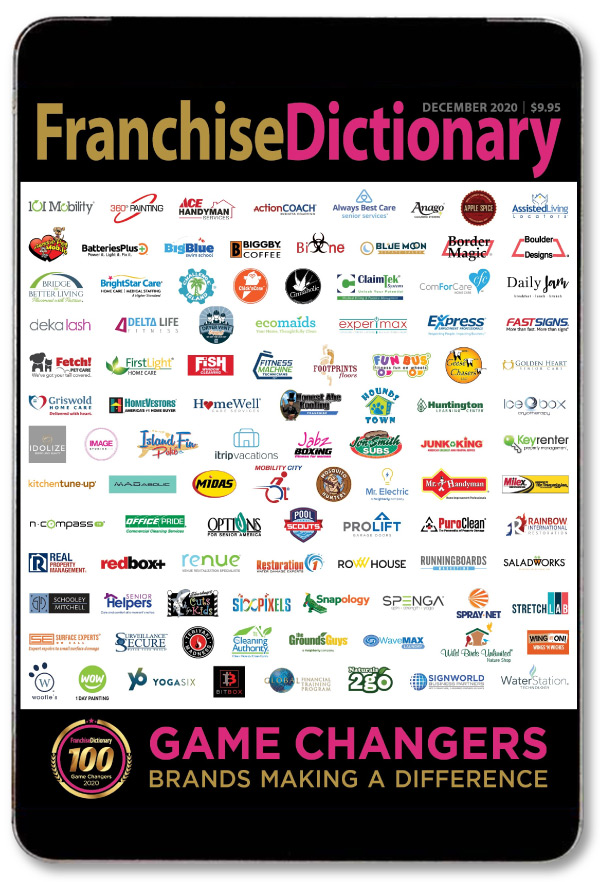 December 2020 Articles
Departments
Although Berekk Blackwell is the president of Daily Jam, he cannot help but think back to what drew him in initially as a customer. According to Blackwell, Daily Jam had a good reputation in the community, possibly due in part to the undeniably warm, happy, and contagious vibe customers felt once inside. By Cindy Charette
Features
COVID-19 has wreaked havoc on many businesses, but Tint World owners have pushed forward with efforts resulting in one of the biggest years to date in terms of store sales and new franchises. By Cindy Charette
InXpress is a business-to-business, home-based sales franchise in the shipping and logistics industry. Our franchisees sell global shipping and freight services to small- and medium-sized businesses. No retail storefront, no handling of packages, and no employees required!
Getting a haircut should be as quick, easy, and affordable as going to the supermarket. That was the idea behind creation of the Supercuts franchise, which standardized the hair-care process in 1975, developing a 20-minute cut technique now adopted by thousands of salons. By Jessica Jones
After dedicating nearly two decades to a sales career that required extensive overnight travel, Josette Rosene left her job to be home with her husband and their three children. Initially, the change of pace was challenging for Rosene, who was used to being busy all of the time, so when she came across a Jabz Boxing trial offer, she rounded up several friends and attended her first Jabz Boxing class. By Cindy Charette
Boulder Designs® has had an amazing year in 2020 with franchises popping up all over the country, resulting in tremendous growth! Franchisees rave about being part of the Boulder Designs family of businesses, and the feeling is mutual. Boulder Designs officials don't hesitate to share the love for their franchisees and their businesses. By Rose Mango
Franchise Dictionary Magazine (FDM) closes each year with their 100 Game Changers issue and a few words from Robert Cresanti, president and CEO of the International Franchise Association (IFA). There is no better source on all things franchise than Cresanti and the IFA. By Rose Mango
The COVID-19 pandemic has changed the way many businesses function, entirely shutting operations for many but opening new avenues of investment for others. For Global Financial Training Program, a national company that secures financing for businesses and real-estate investors who have been turned down by banks, the health crisis has fostered many new opportunities. By Jessica Jones
Launching a franchise program on the eve of a pandemic was not ideal, but Impresa Modular, the national leader in off-site modular custom home construction, remains on track to meet its sales goals this year. By Nancy E. Williams
Launched in Buffalo, New York in 1985 with only one employee, Bailey Seafood, born from George Kontras' love of fish, quickly anchored itself as the area's go-to spot for a fast and fresh dinner. Obsessing over quality and one-of-a-kind menu items not found anywhere else, the family owned business quickly grew, serving its famous Belly Busters and Haddock Super Sandwich to lines of hungry customers. By Jessica Jones
As CEO of FranServe, Inc., Alesia Visconti heads the world's largest franchise consulting organization. Here, she reveals what led her to franchising, how FranServe Franchise Consultants help business ownership dreams come true, and what a true entrepreneur should do to ensure success. By Rochelle Miller
For over 50 years, Paul Davis Restoration has repaired residential and commercial properties damaged by fire, water, mold, storms, and other disasters. With over 300 independently owned franchises in the U.S. and Canada, the company works with professionals who are certified in emergency restoration and reconstruction, tackling every disaster with a blend of compassion and logistical recovery skills. By Jessica Jones
Shop Talk
No one gets excited over a complaint about their business, but smart entrepreneurs don't get all twisted up either. It's impossible to please everyone all of the time and, at some point or another, even the best companies are going to receive a criticism. What separates successful entrepreneurs from ones who are unsuccessful is how that comment is viewed and handled. By Alesia Visconti
It's that time again, when most franchisors start to think about updating their Franchise Disclosure Document (FDD) for next year. Around the time this article gets published in early December, if you are a franchisor client of ours, you should be receiving your first "FDD Renewal Reminder" email. By Tom Spadea
As with any year coming to an end, we look forward to what is coming next. Nothing could be truer as we approach the end of 2020. The question is, what to do? Furthermore, how to do it? If you are "stuck" in a job you don't like, with people (even working virtually) you don't like, it's time for something you DO like. By Dawn Abbamondi
Successfully funding franchisees since 1997, First Financial is your one-stop source for all small-business financing needs from SBA Express Loans, equipment leasing, merchant services and now, with the recent addition of ROBS plans. By Suzy Granger
Not all storms come in one's life to destroy. Rather, some storms come to clear one's path. Some say COVID-19 is a storm; it has crept into our own backyards causing disruption, and it has forced some to pivot and look for a better and clearer path to their future. By Don Clayton
Franchise Business Radio: Listen and learn from Bob Lewis, President & CEO of Closet & Storage Concepts / More Space Place and Adam Biedenbender, who recently joined the company and brings a tremendous amount of franchise-industry experience and real-estate knowledge.
Sign up for the Franchise Dictionary Magazine Newsletter