Issues Highest Number of FASTSIGNS Sales Achievement Awards and Certifications. 
CARROLLTON, Texas — FASTSIGNS International, Inc., the world's leading sign and visual graphics franchisor with more than 765 FASTSIGNSⓇ locations in eight countries worldwide, hosted its 13th annual Outside Sales Summit August 10-12 in Indianapolis, IN. There were over 596 people in attendance, which included attendees, corporate staff and exhibitors.
With the theme, Rev It Up, the FASTSIGNS 2023 Outside Sales Summit celebrated the network's sales achievements between July 1, 2022 and June 30, 2023. At the awards event, 269 Outside Sales Professionals were recognized, including 56 who received the prestigious Platinum Award for achieving over $1 million in individual sales during the 12-month period. Additionally, 50 individuals became Certified FASTSIGNS Sales Executives after completing an extensive certification program during the same period, a record year for the network.
Angela Allison from FASTSIGNS® of Lancaster, PA was recognized as this year's recipient of the Catherine Monson Salesperson of the Year Award. This is the fifth year for presenting the Catherine Monson Salesperson of the Year Award. With this award, FASTSIGNS recognizes one Outside Sales Professional who best represents the concept and the spirit of the brand, both in the business community and within the FASTSIGNS network.
"Our 13th Outside Sales Summit in Indianapolis this year was an exhilarating experience for FASTSIGNS attendees and especially memorable as my first as President of FASTSIGNS. This year we recognized the impressive achievements our sales professionals have made with the most awards given to date. The summit served as our strategic pit stop, a place to refuel and recharge our sales engines. Now, we're fully charged and primed to 'rev it up' and race ahead toward even greater success," shared Andrea Hohermuth, President of FASTSIGNS International, Inc.
Featured speakers included Author, Advisor and Catalyst, Walter Bond who spoke on "Having a Shark Mindset to Achieve Peak Performance" and Mike Weinberg, Best-Selling Author and Award-Winning Sales Leader who shared "A Foolproof Framework to Win More New Sales." Additional speakers covered a variety of topics including using AI to boost the sales process, the use of data to improve sales, building a sales toolkit and how sales professionals can better capture and convert leads, informative roundtable discussions and more.
FASTSIGNS® franchisees and their employees, vendors and FASTSIGNS International, Inc. corporate staff also participated in the FASTSIGNS Community Giveback "Breakfast with a Purpose" event to assemble 200 care packages for hospitalized and homeless veterans at the Indianapolis VA Medical Center. This giveback event was also made possible by the generous support of the FASTSIGNS Community Giveback sponsors including CareerPlug, Howmac, Kelly Spicers, NW Quik Pull, Royal Printing, Versa-Tags, Advertising Specialty Institute (ASI), Grimco, Howard Ind, Kapco, Hanson Signs and Retreva (Click2Sell).
Some 93 vendors participated at this year's Outside Sales Summit Event, including Epson, FELLERS, and Grimco all of whom were Diamond Sponsors. The Opening Night Networking Party was sponsored by Retreva (Click2Sell).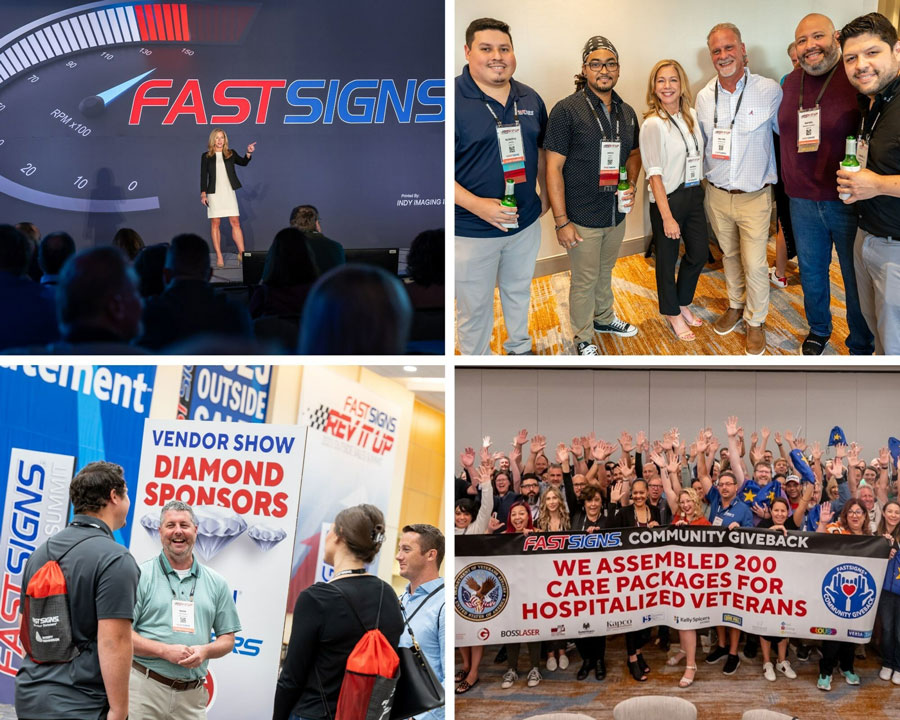 About FASTSIGNS®
FASTSIGNS is a leading national visual ideas company that creates a wide variety of comprehensive sign and graphics solutions. With over 35 years of experience, FASTSIGNS helps you achieve more than you ever thought possible. We are the worldwide franchisor of more than 765 independently owned and operated FASTSIGNS® centers. FASTSIGNS locations span across the United States, Puerto Rico, the United Kingdom, Canada, Chile, Grand Cayman, Malta, the Dominican Republic and Australia (where centers operate as SIGNWAVE®). FASTSIGNS is frequently recognized for franchisee satisfaction and through franchising awards which include being ranked #1 on Entrepreneur's Highly Competitive Franchise 500® List for the Seventh Consecutive Year for 2023 as well as being named a 2023 Best-in-Category Franchise by Franchise Business Review.
In 2021, Propelled Brands was formed, and is now the multi-brand franchisor for FASTSIGNS®, NerdsToGo® and MY SALON Suite®.
To learn more visit fastsigns.com. Follow the brand on LinkedIn at linkedin.com/company/fastsigns, Twitter @FASTSIGNS or Facebook at facebook.com/FASTSIGNS. For information about the FASTSIGNS franchise opportunity, contact Mark Jameson (mark.jameson@fastsigns.com or call 214.346.5679).