MANASQUAN, NJ – College football season is here, and one lucky fan will be a big winner. Jersey Mike's Subs, known for its fresh sliced/fresh grilled subs, kicks off its annual A Sub Above College Football Tailgate Sweepstakes.
"From our growing involvement with the NCAA and the 31 schools we've partnered with this football season, we know college football fans are sub sandwich fans," said Rich Hope, Chief Marketing Officer, Jersey Mike's Franchise Systems, Inc. "We're excited to offer our annual Tailgate Sweepstakes once again this year so our fans can attend their dream game and will think of Jersey Mike's first for all their tailgating needs this fall."
One Grand Prize winner will receive six tickets to a 2018 regular season home football game of the Grand Prize winner's choice scheduled to take place during either October or November 2018 at participating schools. Jersey Mike's will fly the winner and five friends to the game, and provide a Jersey Mike's Gift Card for a tailgate party prior to the game.
In addition, five First Prize winners will receive four tickets to one 2018 season home football game and a $100 Gift Card. Five Second Prize winners will receive a $100 Jersey Mike's Gift Card and twenty Third Prize winners will receive a $50 Jersey Mike's Gift Card.
Fans can enter through September 30 by placing a Jersey Mike's online order at www.jerseymikes.com/order or through the Jersey Mike's mobile app with promo code SUBABOVE10 or, without making an online order, by visiting https://www.jerseymikes.com/promo/cfb-tailgate-sweepstakes and following the instructions.
An additional score? Online orders, using the promo code, receive 10 percent off.
For additional information or rules pertaining to Sweepstakes, please reference https://www.jerseymikes.com/promo/cfb-tailgate-sweepstakes.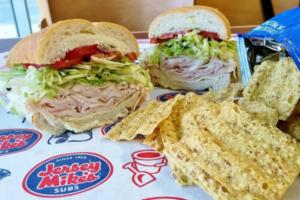 About Jersey Mike's
Jersey Mike's, a fast-casual sub sandwich franchise with more than 1,500 locations open and under development nationwide, believes that making a sub sandwich and making a difference can be one and the same. Since 1956, this has been the driving force at Jersey Mike's — serving customers, teams, and franchisees. The company's commitment to excellence is what makes Jersey Mike's a great franchise opportunity. From day one, Jersey Mike's works with franchisees to ensure the best possible location, training, marketing, and ongoing coaching and support. Jersey Mike's currently is seeking single- and multi-unit operators who have a unique passion for the business, giving to others, and bringing energy to people's lives to help grow the fast-casual sandwich concept throughout the nation. For more information about available franchise opportunities, visit: www.jerseymikes.com/franchise or call 732-292-8272.
About Van Wagner Sports & Entertainment
Van Wagner Sports & Entertainment LLC (VWSE), a wholly owned subsidiary of Van Wagner Group LLC, is one of the preeminent sports marketing and media sales organizations in the world. It is an acknowledged innovator in property consulting and branding solutions and a global leader in naming rights, team and venue services, high-impact visible TV signage throughout the MLB, NBA, NCAA, MLS, and internationally in soccer, advertising and sponsorships sales, premium ticketing, technology design and integration, and in-venue content production. VWSE works with more than 300 professional and college teams worldwide. VWSE assists teams, organizations and properties in creating and selling advertising; sponsorships; and media that maximize revenue potential, and helps clients develop effective and powerful customized brand campaigns.