ATLANTA, GA  – Huddle House, the nation's most iconic neighborhood diner known for its Southern hospitality and big portions at fair prices, recently commemorated its 2018 annual franchisee convention, which was held July 22-25 in Ponte Vedra Beach, Florida.
Themed "Our People, Our Success," the convention brought the entire organization together to celebrate the brand's system-wide successes, guiding principles, sense of camaraderie and community-centric business values.
"Our National Convention is always the highlight of the year," said Michael Abt, president and CEO of Huddle House. "We get to bring all of our franchise partners and employees from the home office together to inspire and learn from each other. The time in Ponte Vedra Beach was energizing and a solid reminder of how strong a team we all are together."
This year's convention celebrated Huddle House's company-wide accomplishments during its 2018 fiscal year and challenged all attendees – franchise partners, regional marketing and field team members, corporate leadership and vendors – to continue to exceed expectations, lead by example and serve from the heart. The three-day conference included extensive training, educational seminars and opportunities to share best practices across the franchise system.
During the general sessions, Abt unveiled that system-wide sales have increased by 2.5 percent and that average unit volume has grown by more than 7 percent. In addition to this continued sales growth, Abt also noted that the 69 percent of Huddle House restaurants that have already upgraded to its new Evolution design concept are outperforming the older designs by an average of 31.3 percent. As published in the current Huddle House Franchise Disclosure Document, the top half of all Evolution design restaurants posted an impressive average annualized unit volume of $1,002,796.
Throughout the convention, Huddle House bestowed honors on top-performing franchise partners and their team members in attendance for sales, customer satisfaction, marketing achievements and superior operations over the past 12 months.
During the banquet dinner, Abt presented the highest honor, "Franchise Partner of the Year," to Huddle House multi-unit owner Jamie Hicks. Hicks earned the recognition for setting the "gold standard" for franchise partners throughout the Huddle House system who operate with pride and excellence daily, consistently serve up hospitality to every customer, support the local community and are wholly dedicated to elevating the guest experience.
In addition to Hicks' impressive recognition as "Franchise of the Year," several other Huddle House restaurant owners earned awards, such as "Best of the Best," "Served from the Heart," "Million Dollar Club," "Star Marketing" and more.
Based in Atlanta, Huddle House restaurants have earned adoration in their communities for their warm, friendly atmospheres where every conversation, sip of coffee and bite of home-cooked meals are savored. Known for its round-the-clock breakfast, Southern hospitality and big portions at fair prices, Huddle House embeds itself into every community it serves by bringing friends and families together over delicious food, served from the heart.
To learn more about Huddle House, visit huddlehouse.com
For more information on the Huddle House franchise opportunity, visit huddlehousefranchising.com or call (800) 640-7125.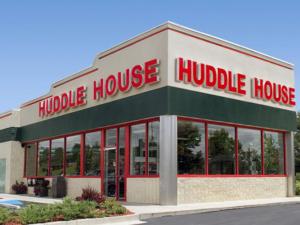 About Huddle House
Committed to serving "Any Meal, Any Time," Huddle House restaurants have become icons in the communities they serve throughout the country by bringing friends and family together over delicious food, served from the heart. The core values on which the brand was founded – serving freshly prepared, quality home-style food in a warm, friendly environment that brings the community together – are as true today as they were when it was founded 52 years ago. Today, the brand has 347 locations open and an additional 51 in development.
To learn more about Huddle House franchise opportunities, visit huddlehousefranchising.com and for more information about the brand, visit the company website at huddlehouse.com.